Coronation Park
New Road
Radcliffe
M26 1LS
January 11th, The Rock - Ten Pin Bowling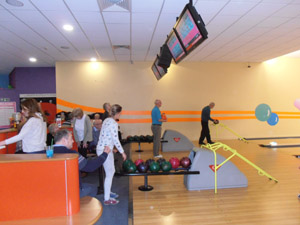 Once again the first event of the New Year was Ten Pin Bowling at The Rock, Bury.

An excellent turn out of sixteen players this year with Phil Nuttall emerging as the new champion removing Ken from his usual unassailable position of top performer. Whilst Phil used technique, Matt used power and almost got the highest single score with a 156 versus Phil's 158.

Matt and Margaret Leach were the only players who converted a split. Wooden spoons went to Richard and Derek with Richard bowling the lowest single score and Derek showing great consistency (although I thought I saw others bowling Richard's ball in the final game).
David Barrett used the ramp and also managed to have his ball delivered. The power of Presidency?

Full finishing order; Phil, Matt, Ken, Helena/Paul R, Paul K, David B, Sue, David L, Margaret A, Barbara, Margaret L, Vi, Gill, Richard/Derek.

Good fun had by all with lots of 'Happy New Years' - Thanks to Barbara for booking and organising. Also raising £36 for the club.
1st February
Golf Croquet player's index needs to be re-calibrated for start of season, see Explanation Sheet or CA Site
Joan Langridge, 29th January RIP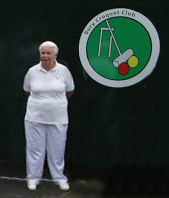 13th February
DD writes, "Many thanks to Mac & Susan for a most entertaining evening and excellent supper. £85 was raised for club funds".
9th April
ME writes, "Bury South v Bury North @ CP After overnight rain and a great effort by members to clear the lawns of surface water we were able to play the above match yesterday. This resulted in a win by Bury South 11 - 5 with two drawn games John Gilmartin made his debut for the club with a creditable performance winning two of his games but more importantly gaining experience".
Coronation Park, 16th April, Open Day.

We had a steady stream of visitors with 27 adults having arrived between 11am, when we opened and noon. Also a nice stream in the afternoon including 4 children.

All seemed to enjoy the day and certainly 3/4 want to come and have another go so will come to a club session. Unfortunately the Mayor (Councillor Stella Smith) had hurt her leg so couldn't play but her consort (Mr John Smith) had a go.

The open day was in support of Bury Hospice and the event raised £469.30.


We even managed to pack up before it rained - what a good day!




South Shore, 16/17th April, Tankard Advanced Weekend.
Both Matt & Paul had entered the Southport Advanced but due to Lawn condition, that club had to cancel the CA fixture - however Fylde jumped into the breech and invited all the entries to play on their dry courts.

Because of or in spite of an incorrect weather forcast, only Lancashire players turned out for this impromptu "Not Southport Tournament" or "Three-a-Day Advanced" with the same manager being retained for the new "venue".

As it happens, shorts were in order on both days with loads of blue sky and early season sunshine - even Lee Hartley was seen without a scarf and coat, it was that warm!

Format was all play all over the two days and both Bury club members finished top of the heap with Matt having the Bragging rights over Paul on who beat who.

Many thanks to FCC for Hosting at such very short notice and as an illustration of how much fun was had - all combatants stayed until the very last stroke.
Pendle & Craven 23/24th April, Neil Williams NW Federation Advanced Tournament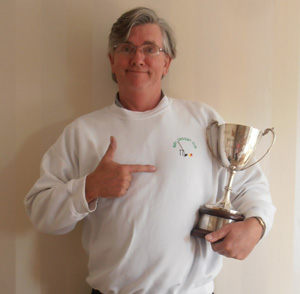 Neil Williams Memorial - Paul Rigge.
Managed by James Hawkins.
A carbon copy (does anybody still use those?) of last year's event with both Riggey and Andy Brandwood again represented Bury CC at the Federation Advanced Millennium Event, held up at Earby in bright sunshine.

Last year Riggey gathered a load of points (31) but no silverware.. this time out, he picked up 32 points and the Trophy - what a differance just a single index point makes..


Andy didn't fair as well in his campaign but against stronger opposition, only lost 14 points over the two days.
Bury CC Golf Progressive Doubles 3rd May at CP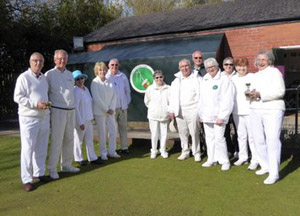 12 members came on a mainly sunny day to join in with the club Golf Progressive Doubles.



Carol won the High Handicap & Ken Eccles took the Low Hcp Trophy
Well done everyone.
CA Ladies Internationals Vs Lancashire 7/8th May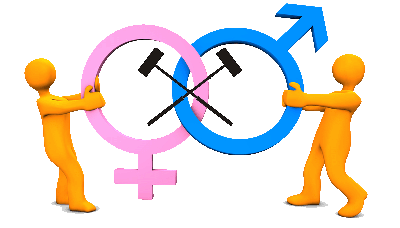 It's Official - Girls are better than Boys (at Croquet anyway)!
At the end of the first day's play the lads were surprised to be in the lead, 2-1

Saturday's order of play at Whitehead Park was Doubles, Best of Three Games per pairing. The botton and mid pairs were both decided easily, only requiring two games to share the honours evenly between the teams. Only the top pairing needed the third rubber contesting... the struggle went on & on into the evening, with all the other players now partisan spectators urging thier side to victory - before we overran our dinner reservation booked for 20:30, with 15 minutes to spare we made the local restaurant.

Sunday, Singles Day. Each team member to play their opposite number in ranking order in Bo3 match.

Oh dear, by lunch time, the results started to arrive..only two games being required by the fairer sex to roll bloke after bloke over until the entire Lancs team succumbed.

Final score; 6-3 to the CA ladies with only Dave Nick managing to score a win for the fella's.
NW Federation Level Golf at CP, 14/15th May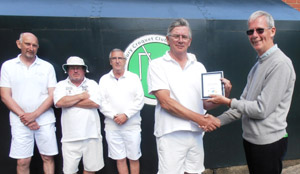 Paul Rigge defended his Federation Title from last year, won at Chester, at Coronation Park this weekend.

But he didn't make it easy for himself, dropping block game after block game on the first day, but did enough by Sunday lunch to qualify for the KO stages.

Breezed through the semi's to meet Dave Widdison in a Bo3 Final. Having gone 1 game up, he quickly lost the first 4 hoops in the second before recovering form to take the title 7-3, 7-4.

Was good to see our own Ken Eccles also fighting further down the field and he finished with points up on the weekend, he continues to climb the rankings.
NW Federation Millennium Short Trophy 15th May, Chester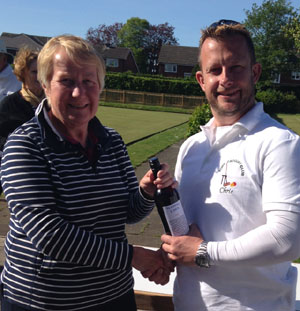 Eight enthusiastic players ( two each from Bowdon, Bury, Craig-y-Don and Chester) opted to compete for the Millennium Short Trophy rather than run the Chester Half marathon and were rewarded with glorious weather and closely contested matches on manicured Chester lawns.

The Swiss format produced a steady first round but by lunch the field began to spread. Like so many Olympic 1500m finals it was the third lap which proved decisive. Emulating Herb Elliott in Rome in 1960 Brian Walton of Chester ( fortified by his lunchtime chilli con carne) made the decisive break beating Anne Alvey of Bury to move into a clear lead.

Any hopes of Brian fading against the low handicapped Roger Edwards of Craig-y-don on the last lap were quickly dispelled as he powered to a fourth successive win to take the trophy.

Chris Alvey restored the family fortunes by winning his last match against Jayne Taylor of Chester in a " dip finish" to snatch the silver.

All in all a very enjoyable day in which the winner and the runner up were rewarded with a bottle of the world famous Chester Sloping Lawn claret of which the 2016 vintage is especially prized amongst connoisseurs.

Many thanks to all for the friendly and enjoyable atmosphere.

Report by John Dawson
Southwick (Brighton) Croquet Club, May 28-31st, 2016 Inter-Counties.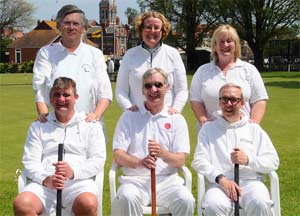 Both Matt Holmes & Paul Rigge made the 7 3/4 hour long trip down to again play in Div 1 for Lancashire. This year was the strongest we've been for a good few years.. all six of the team with Handicaps below zero.

As always the three priorities were;
To get enough wins to stay up.
Beat our nearest counties...Cheshire only this year to have a go at &
Stay sober - well during the day at least!

This year the counties were graced with the company of both the 'Clarks' over from NZ - Jenny playing for Cheshire and Chris (who was born in Lancashire) playing for Essex, and that was our undoing......
Cheshire beat us 2-1 in our first match Saturday and in our last match, with us tied at the top of the League with Notts, we met Essex.....
Nottingham lost their final match ....so did we by 2-1...Clark pegging James's ball off after sextuple peeling him round, Matt tried to win with some great shooting but Clarks defence carried the game.
Sooo close but we lost 'our' first title on hoop difference to Nottingham (who we'ed stuffed)....

Photo Paul(-1). Ailsa Lines(-1), Annabel McDiarmid(-0.5). Matt(-1.5), Dave Openshaw(C)(-1.5), James Hawkins(-1).

An initiative from the Croquet Association chose the 5 June as National Croquet Day with nearly all clubs holding their own events across England.

With the hope of gaining some publicity from this Bury Club also arranged a distribution of 10,000 leaflets to houses in the areas surrounding Whitehead Park & we were interviewed by ThatsLancashire TV.

Would it work? Would any attend? Around 20 club members arrived on the Sunday and set up the courts an hour before *opening time* with the kitchen stocked with ample tea and coffee and even cream teas in preparation.

In the event around 50 people passed through the club entrance. Some came just to look. Nearly everyone was involved in a game of Golf Croquet in the sunshine.

From this a dozen people showed a strong interest in continuing and left their details.

Following the event, on the Thursday evening 9th June a beginners course was started, 5 people attended and all signed up and paid for the 6 week course.

We will continue to contact those who left their details to see if we can arrange croquet for them at a convenient time
Federation Handicap Golf, 11th June, Coronation Park.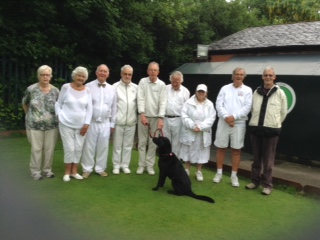 Seven players from four clubs took part in the Federation Handicap Golf tournament at Bury.

The day started fine but unfortunately was soon to become rather wet.
The format was all play all and all 21 games were completed before or as time went.

All games were extremely well fought where most of them could have gone either way, several of them going to the golden hoop.

After round four two players had four wins each. However the eventual winner with six out of six wins was Keith Woodward from Culcheth. Congratulations Keith.

Also a note, the oldest player, our own Jean Oldfield, came joint second with four wins, Counting who beat who she was indeed second. Well done!

Just an extra bit - the last game had to double bank on lawn 2 as lawn 1 was unplayable in parts by this time.


Pendle's Advanced Weekend, 11/12th June, Coronation Park.
Paul Rigge & Andy Brandwood entered this weekend tournament along with players from all over the NW, Midlands & NE. A dry weekend with shorts being the de facto order of dress with the hoops set firm and tight *and* with all courts set up, no need to double bank - what luxury!

Paul marched into the final of the KO and only dropped a single game in the 'A' class block over the whole weekend. so yet again lifted both the David Openshaw Claret Jug and the Chris Clark Bowl.
Crake's Advanced Weekend, 18/19th June.
Riggey entered this tournament along with members from Bowdon & Fylde. With only eight entries accepted due to the state of the bottom courts (stll recovering from 6months submersion), All play all in bright warm sunshine... really in the Lakes?? Finally by the last round, after lunch on Sunday, God woke up and remembered why the place is called the Lake District, so opened his sluice gates,,.opened with such efficiency that none of the Fylde contingent would play and complete the block in what was now the very wet!.

Brian won with 6/7, Paul finished second at 5/7 (but we completed the workload!....).
24th June, Longman Cup 1st Round Vs Pendle
Bury again managed to get round one at home in this year's National Competition, this time we drew Pendle & Craven at CP.

Bury Posted a Win by 5-2
Following his policy of fielding women, Mac surrounded himself this year, as he was the the only bloke on our team this outing.
Full results, Bury names first
AM.
Barbara Young/Margaret Eccles Beat
John Snowden/Peter Dewhurst +2
Margaret Anderton Lost to Garry Wilson -4
Mac Hardman Lost to Robin Delves -8

PM.
Young Beat Wilson +13
Anderton Beat Delves +25
Hardman Beat Dewhurst +12
Eccles Beat Snowden +5

Chester (at home) next, in Round 2 by July end.
Nottingham 24th/26th June,
Matt again entered The Championship of the East Midlands with a full field of 23 contesting the title. The draw wasn't particularly kind this year.
He achieved 4/10,
Federation Festival, 25/26th June, Southport.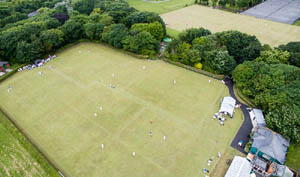 The club entered all the events at this year's social.....ten clubs this year at one location,

AC Advanced, AC Handicap, AC Short 14 point & Handicap Golf.

Didn't do much, but fun was had - some of it in the rain.
Adv 3rd
Hcp 2nd
Sht 3rd
Glf 9th.
English Open Championships at Cheltenham, 2/10th July.
Matt Holmes has started his campaign at THE premier national event on the calendar well by beating, in a warmup 'Z' game, the new USA wonder kid (Matthew Essick)...just.. +2.

All games are played under Super Advanced Rules.. 5 games to qualify for the KO in the Swiss (or 6 losses to get into the Plate).

Failed to qualify for the KO & lost at the first hurdle in the Plate (Draw n Process).
Weekend round up 9th July.
Andy Brandwood (playing for Pendle) played against Bowdon in their first match of this year's Mary Rose Inter-Club Trophy on Saturday (Pendle had a bye through round 1).

Pendle lost to the stronger side..just 3-4.
National 'B' Golf Competition, 10th July, @ Coronation Park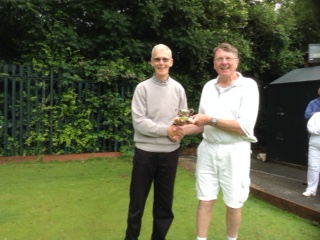 Jean Hargreaves reports; Winner - Roger I'Anson (Ripon)
Hosted by Bury CC, Managed by Bury members Jean Hargeaves and David Barrett.
12 players enjoyed a very mixed bag of weather at Coronation Park to battle it out for the Bury CC Round of this National B Level Golf tournament.
Play was in two blocks, all play all, with many keenly fought games 8 out of 34 went to the Golden Hoop and 11 more went to hoop 12. Only 3 games didn?t reach hoop 10.
The eventual winner from Block A was Margaret Eccles (Bury) with 4 out of 5 wins.
Block B winner was Andrea Widdison (Pendle and Craven and Bishop Monkton) with 4 out of 5 wins.

In the K/O, Margaret played Roger I'Anson (Ripon), who had 4 out of 5 wins but had lost to Andrea, in one semi-final whilst Andrea played Libby Dixon (Pendle and Craven), who had 4 out of 5 wins but who had lost to Margaret, in the other.
Roger beat Margaret 7-4 and Libby beat Andrea 7-5. In the play-off for 3rd and 4th places Margaret beat Andrea 7-4.

The final between Roger and Libby was quite a nail biter. After hoop 7 Libby was behind 5-2 but made a good comeback to make it 5-5 at hoop 10. Roger gained the next hoop and then followed a good battle for hoop 12...Roger eventually managing to take it and win.

As I said the weather was very mixed but thanks must go to David Widdison, Andrea's husband who was spectating, for his fantastic efforts using the bowdry to try and remove the surface water on the lawns after every heavy bout of rainfall.

Congratulations to all and good luck in the final Roger.
Corporate Afternoon 13th July.
We hosted for 13 players and 3 spectators for the first time from Tottington Rotary Club to have a go at croquet. We had 3 teams of 4 and I helped and played 2 games with the other player who had some health and mobility problems, despite these he said he had enjoyed it.A good time was had by all despite the couple of very heavy showers.

Most of them left us to go for a pre-booked meal at the Metro Cafe.
Corporate Afternoon 17th July.
Members from Spice booked our club for their Posh Picnic and Croquet session.
Again numbers were low due, I am told, to the inclement weather we have been having. However the 6 players had a great time. Only one had played properly before and the organiser only once, and according to her badly. The others were new to the game and one new to Spice.
Lauren, the co-ordinator, provided the Posh Picnic and the helpers were invited to join in as well. A good late morning/afternoon.
Weekend round up 16/17th July.
Matt Holmes went over to Nottingham to play in their Ascot Cup Qualifier, The Midland Golf Croquet Open Championship. He didn't make it out of the Blocks, but he did stick around for the Final - to stream it live onto the web (even Chris Clarke watched - 2.30am his time).
Coronation Park 23rd/24th July, 16th Lancashire International Open Golf Championship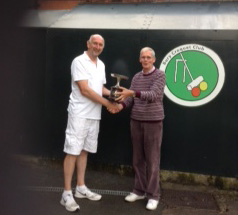 We had to change both the venue & timing this year due to the uncertainty of the playing surface at both WP & WP so limited entry to the numbers that CP could support for this Ascot championship Qualifier for this year only.

It being July and not April, the sun shone, the sky was blue and the courts ran at 15 plummers...what a test for the chosen few!....and yes, Both last year's winners were back to defend their titles (KO & Plate).

The players were all in a single block, all play all, untimed 13point games with the top four qualifying for the title run knock out (Bo3). A ranked consolation KO was available for those who failed to qualify.

This tournament, however marked another Bury first...the results were posted onto the antipodean site 'Croquetscores' as they were resolved.(thx David)

Three of the highest ranked players and last year's plate winner (going one better) qualified for the KO on Sunday, which again started an hour before lunch - just as a light shower blew through...by tea;
a right battle for the title was underway....Dave W is the name on the trophy again.. but what an upset it's Dave Widdison.


Hosted by Bury CC
Managed by Jean Hargreaves & David Barrett.
Title Knockout
David Walters
Walters 7-3 7-2
Widdison
4-7 7-6 7-5
Jane Pringle
Dave Widdison
Widdison 7-2 6-7 7-6
David Crawford
Bury Carlsberg Club
"It's the best service and hospitality I have received at any Club in the World"
Freda Vitty, BCC 24th July

Southport Super B Advanced Weekend,23/24th July,
Andy Brandwood returned to the tournament where he claimed his gold badge last year and again played in the top grouping, as did Avril Rangoni-Machiavelli (Surbiton member). Avril gave the Manager a headache on Sat morning by withdrawing unless she was allowed in top group (playing of 3). Luckily Prof Pidcock(1.5) agreed to switch places and keep an even number of players...moral of the story - read the Fixtures Book when entering Tournaments! (she missed the bit about it being split into high/low Hcp)
Andy achieved 3/5 and worth noting that Avril got 0/4... assume she pushed back south early - the only player not to play in five rounds.
Club Heat of Grass Roots,(golf) 26th July, @ Coronation Park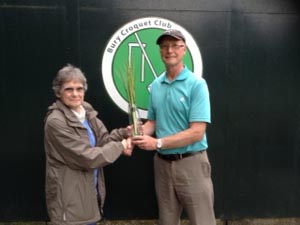 Jean Hargreaves reports;
Five members participated in this event, Margaret Leach having had to drop out after breaking a bone in her back and David Leach also dropped out because of this.

It was an All play All arrangement followed by the top four playing semi-finals, and then we had the final and play off.

The blocks were well contested with not all results showing the battles that went on in some games. Some players had the misfortune of peeling their opponents? balls at a critical stage in their games.

Phil Nuttall won all his games and reduced his handicap to 6. Gill Freely also had a handicap reduction and Helena Nuttall is almost there. Well done!

Phil and Jean Oldfield will hopefully represent the club in the final at Nottingham on 18th September.


29th July, Longman Cup 2st round.
Off went the team to Chester, long trip back after losing to John Dawson's pick of Paul Watson,Mike Miller, David Boyd and John Dawson... 4-3
Golf *Fun* Day, CP 9th August.
Jean Hargreaves; Four clubs (including Bury), and one spectator, enjoyed a good event despite the intermittent rain. Fun was had playing a total of 7 different games.
A big thank you to everyone who helped on the day.
The winners of these were as follows;
Joker - Denis Cook (C) and Jo Pierpoint (G)
Bonus - Jean Oldfield (B) and Tish Hilton (C)
10 minute - Cyd Harbuttle (F) and Freda Hall (F)
Double Evens - Di Mitchell (C) and Lou Pel (F)
Mini - Anne Connop (C) who also won the
Score the Hoop after a play-off against Jean Oldfield
Football Croquet - Ed James (F) after a multi person penalty shoot-out.

Tish had to leave before the end so missed the photos.
Code: C- Culcheth, G-Goostrey, B-Bury, F-Fylde
Coronation Park 16th August.
News Flash...Lawns now closed until further notice, use Whitehead for any sessions/games. - Mac
And that notice is;- CP will re-open 23rd in time for Richard's Portfolio Executive group booking.
Coronation Park 3rd/4th September All England Regional Final.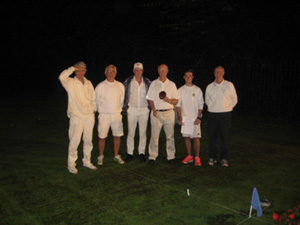 Hosted by Bury CC
Managed by Paul Rigge
Phill Nuttall (Bury) wins with Will Mellor (Bowdon) also qualifying for the National Final.
Most of the Regional finalists all gathered at the *right* Bury Venue and Round one got fully underway by 9:30 but the manager had to slot himself into the draw to even up the numbers... Round two was started before lunch to try to get ahead of the darkening skies and forecasted deluge. In it, Paul was quickly despatched so was soon able to assist Bury Chairman (Paul Kenworthy) in his valiant effort of trying to keep the courts puddle free as the heavy rain duly arrived. The players headed for cover and dined (manager's special) and then sat inside and sheltered some more as the surface succumbed to the elements. Play was abandoned for the day with most of R2 still to play - a new experience for the assembled, they now know how to fill in 'Pegging Down Sheets'. Sunday; Clear n Sunny. The Chair cleared surface water again as the manager reset the courts - special mention must be made of Bury member Helena Nuttall, who turned up unbidden and tended to the contestants breakfast needs while the surface was thus prepped for an early start - very helpful! Round three started before lunch with the manager having to reduce the game time limit in order to try and catch up. After R4 we had a clear favourite but who would grab the second spot at Hamptworth, at least four were still in with a shout. R5..what to write about R5? erm...Sunset was 19:50 but the last hoop attempt in the very last game was at 21:06! How? Flood lights were utilized of course! Fortunately for the manager, there were no ties to resolve and both places were awarded to the only two gents who achieved 4/5. Phil taking the top spot because he 'did' Will in R3. As well as receiving their invitation to the All England, both candidates had their Hcp cards *adjusted* by the tournament handicapper. The presentation and photos were made by the Chair who had been in constant attendance for the whole weekend (he also did the lunch on Sunday with his better half), very industrious. The entire field must be thanked for their patience and hard work - it *is* possible to run the regional final in a single day (almost) with the dedication displayed over the weekend.
Southport Sandiford Salver Weekend (AC Adv), 11/12th Sept.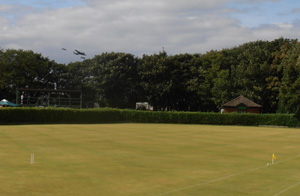 Which is better an Air Show with a croquet tournament or a croquet tournament with an Air Show? Throw in very good weather, great company, well prepared lawns and excellent food with decent beer. Result - happy players!

It was a good test of concentration as the Red Arrows and an assortment of various planes did their stuff with a high noise intensity and tricks over the lawns.

Rigge attended and since it was his last outing for the season, laid up with a one-back leave in every round (seven times)...failed sextuples in the five that weren't hit. Still finished with 5/7 and an all time high ranking though - maybe a new badge next year??...


National Final of Golf Grass Roots, 18th Sept @ Nottingham CC
Jean Hargreaves reports;
Jean Oldfield represented Bury at the final of the Grass Roots in Nottingham. Jean admits she didn't gave a good day, felt she wasn't playing very well even though some matches went to hoop twelve and one went to the golden hoop, I suspect she was the oldest player there. Despite all this Jean enjoyed the experience. Also, not only was Jean representing Bury but she was also the only player from the North of England! Well done Jean whatever the results.
All England AC HCP Final, 17/18th @ Hamptworth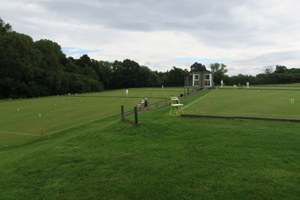 Phil Nuttall was Bury's latest entry to try for us (Graham Good won it for us in 2014) and made the long trip down south. He gained valuable match experience in his first National Final.
Corfu Croqueting Chairman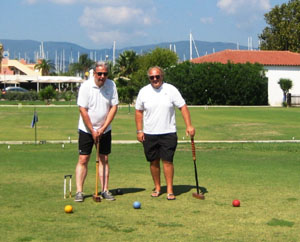 Paul Kenworthy; Having booked a week in Corfu with no croquet intended a quick look at the Corfu Club website (http://corfucroquet.gr/) revealed I was staying only 20 minutes walk from the club.
I made contact and arranged a game for Wednesday afternoon. The club mainly plays Golf croquet but Richard Quilter agreed to play me at Association. He beat me. We arranged to meet again on the Friday and I managed to get my revenge.
The 4 lawns are comparable with most North West clubs. The odd bald patch and some uneven levels but very playable. Very nice toilet and bar facilities nearby (hence Maureen is still speaking to me!). Richard and his wife Karen are lovely people and spend a lot of time promoting the club. They can arrange packages with a nearby hotel. They also run some tournaments with a 9 day package including a tour of the island and boat trip at good hotel rates. Of course they have the luxury of being able to play all year round. If you are interested give them a ring. Numbers are on website. (p.s. I believe Liz and Peter Wilson are playing in the next organized tournament) .
Club AC Progressive Doubles 21st September at CP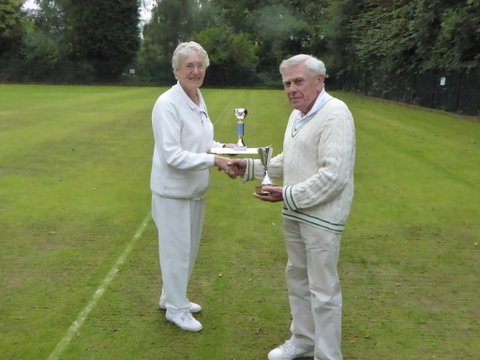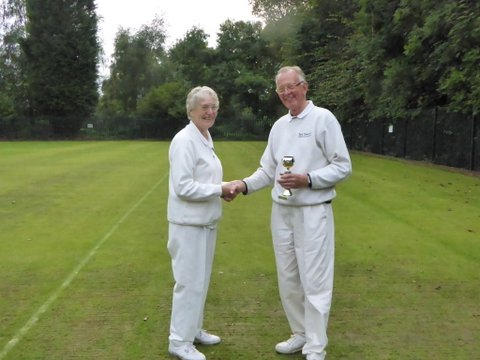 Fourteen club members assembled at Coronation Park, these included three new members from this yearís beginners courses playing in their very first competitive event.
It was organised as alternate shot doubles with low and high handicap players paired together and the pairings changed every round. After a most enjoyable day of play in mostly dry weather with only one brief shower, 5 rounds of matches had been completed. Since there were an odd number of pairs, one couple had to sit out each round and after 5 rounds some players had completed 4 games and some 5. The results were therefore based on the first 4 games completed by each player and the manager Barbara Young (who had been pleased to be assisted by Jean Hargreaves) presented the trophies to the winners
High handicap - Derek Deadman 3 wins Low handicap - Ken Anderton 4 wins Congratulations to both.
Whitehead Park 6th October

On the day that Sajid Javid overruled Democracy and Lancashire Local Council by granting Cuadrilla a permit begin gas fracking around Lancashire, we fracked the whole area of the lawn again at WP & injected Lytac in an effort to keep the water drains working.
Members turned out to help fill the holes created.
The lawns are now obviously closed at Whitehead again.
Internal Finals Day, 9th October at Coronation Park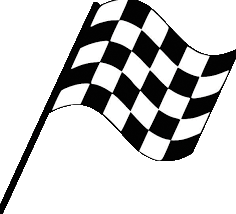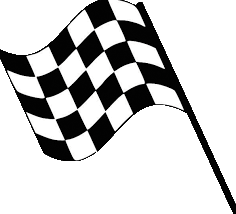 Bury Croquet Club rounded off the season with a highly successful Finals Day, beautiful weather, four varied finals to watch, an appreciative crowd of about 25 club members and an excellent lunch including Susan and Macís famous meat and potato pie.
The first two finals had contrasting fortunes. In the High Handicap Golf, John Gilmartin beat Gill Freely in only two games in the best-of three although the actual scores seemed quite close. (7-4,7-5). The Advanced AC final between Tony Phillips and Paul Kenworthy was a real ding-dong affair which ran to time with Paul the eventual winner by +2t. The Short Lawn final between Paul Rigge and Barbara Young. After two good rounds and good wiring leaves, it looked as though Barbara would wrap it up in under half an hour but Paul then hit in and got going including making one of his two mandatory peels. This success did not last however and Barbara eventually pegged out to win. After lunch the Level Play Golf final was played between the two Pauls. This turned into a rather one-sided affair and the crowd became increasingly partisan, clapping loudly when PK ran a hoop and booing when PR made a long distance clearance - encouraged by both players. The spectators really enjoyed watching some excellent play and congratulated Paul Rigge on his two-game win 7-3, 7-3.
Two other finals were not played on Finals Day, Margaret Eccles had already beaten Barbara Young in the AC Handicap and will be playing Margaret Anderton in the Open Golf next Wednesday. As the conclusion to the day the trophies were presented by Barbara Young who had organised the Internal Competitions and wrote this report. She thanked the players, the caterers and all the members who had attended to make it such a successful day.
Final Final 2016, 12th October at CP
On another sunny morning the two Margarets met to contest the Open Hcp Golf Final. Margaret Eccles turned out to be in excellent form and beat Margaret Anderton in straight two games. Barbara Young arrived just in time to miss any play but presented two trophies to Margaret Eccles who had already won the AC Handicap competition. Added the photo to "Finals Day" link.
P.S. CP now closed for ground work.... drain holes, scarifying, seeding, etc etc..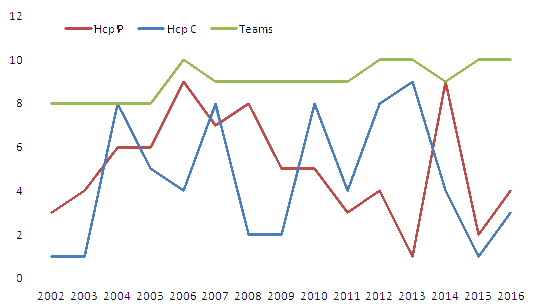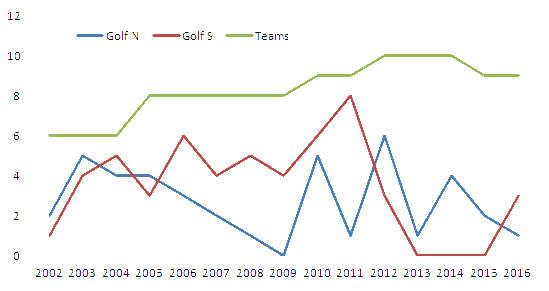 Final NW League Positions.
AC Advanced - Not Contested AC 'B' Adv 3rd out of 6 teams AC Hcp 7th and 8th out of 10 teams AC Midwk 3rd out of 8 teams AC Sht 3rd out of 6 teams GC Lvl 5th out of 9 teams GC 6th & 8th out of 9 teams
Bury AGM, Whitehead Park, 25th November
Our AGM was held for the first time inside our own property - yes 'the palace' that is Whitehead Park Pavilion was utilized for this important meeting.
Again, such is the active investment by the membership in their club, that more than 60% of them attended - Great to see (although I would say, maybe next time I'll wear sunglasses - the comnunity room is so well illuminated it's like sitting in a sun-burst, so vision wasn't a problem).
Main highlights this year; *Hut 2* finished, Winter programme of social events laid out - headed by a Christmas Party to be at WP. New officers elected into the top positions, new Captains for League teams, oh & no winter play on any outside surface timetabled.
Dobbies Social Club, Bolton, 1st December
Ken Eccles recieves a Defibrillator and CPR training from ICD Support Group / Defibs4Bolton & Defibs4Bury Campaign who in turn had, had them kindly donated by Bolton NHS Foundation Trust.

Season Dinner and Trophy Presentation
The Grand Masonic Lodge in the centre of town again hosted a perfect evening with attentive friendly staff, good food & drink, and let's not forget the excellent company who attended - members & friends both.

Club Chairman, Richard Harvey listed all the club's various winners over the last twelve months and re-presented all the trophies to the happy recipients over the course of the evening.




Bury Christmas Party, 20th Dec
Whitehead Park hosted the party for all members.

DD says; "Many thanks to Susan, with her helpers for a super meal at the party yesterday and to David and Barbara for the games and also to everyone who helped to prepare the room. It seemed to me that everyone enjoyed themselves in a great party evening that also produced an income for the club of £205.37".