Coronation Park
New Road
Radcliffe
M26 1LS
January 12th, The Rock - Ten Pin Bowling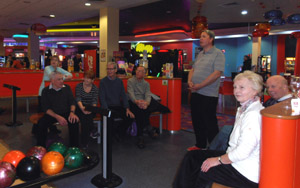 New Year get together for the club regulars at the Bowling Ally atop Bury's Rock.
Eleven players turned out this year but nobody could mount a credible challenge to our Ken, who yet again easily *rotated* himself ahead of the field onto the top slot, chaining titles together just like 'strike' frames.
After our usual three games, the final finishing order was a near identical repeat of last year's but with David getting a nice new wooden spoon this time.
Full finishing order; Ken, Joan, Paul/Geoff/Riggey/Margaret, Barbara, Vi, Jean H, Derek, David - well done all.
Good fun with loads of bidden 'Happy New Years' - Thanks due to Geoff & Barbara for sourcing venue again.
February
19th, Derek writes; "Jean, Gordon and Gill held an Afternoon Tea which raised £74.50 for the Bury Hospice"
7th, Derek writes; "Many thanks to Susan & Mac Hardman for an excellent supper evening last night which raised £74.50 for the club!"
March
24th, Mac Hardman informs; "Play can now commence at WP, new hoop holes have been made on all courts."
6th, Mac Hardman informs; "Subject to the weather, play can now commence at CP, new hoop holes have been made on both courts."
Easter 3-6th April, Pendle John Beech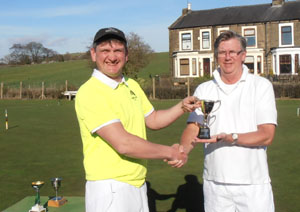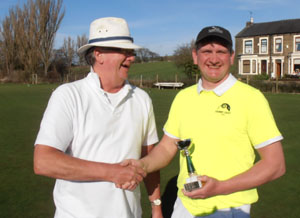 A full third of this year's entries for this four day event over Easter came from Bury CC but we finished with 50% of the awards available (It could almost be classed as one of our *home* events with that many local entires)!

Matt Holmes cantered through the Advanced and took the *Peter Dowdall* with 7/7.

All the other contender results went in ranking order in the advanced section - except Andy Brandwood who on 5/7 excelled and earned another reduction in handicap.

The other trophy Matt won was for most games played over the weekend (14) - & Matt took the opportunity to *push* his company by donning this garish T-Shirt for the Photos.
(Riggey managed to collect the minor "Fastest Game" cup ... )
Southport, 11/12th April, Tankard Advanced Weekend.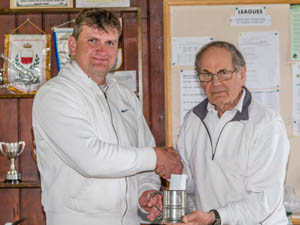 Matt retained hold of the Beer Tankard for the second time & achieved the breakthrough of Index 2200+ (demi God status), Next news should be his inclusion into England Squad.

As always, it was run as a straight four round KO with Bo3 matches for the semi's onwards, but again this year the Final was contested as only a single game?

Photo, indoors because it was cold & wet outside, recieving Mug from Southport President;
Prof Pidcock.









Heaton Park 11th/12th April, 15th Lancashire International Open Golf Championship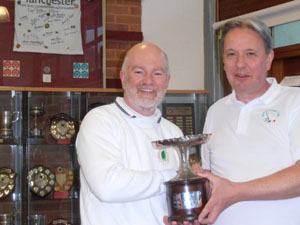 With only 13 players this year daring to face Manchester's weather this early in the season entered, we should have expected floods & the apocalypse, but we got a dry & sunny Saturday and a quick *cold* shower on Sunday. More should have entered this Ascot championship Qualifier.

Heaton Park, what can we report? Well because the Facility Club House had been booked by another organisation we didn't have morning main hut access but after the *tool shed* spring clean, normal breakfast service was available from within that - it was also quite intimate and cosy for the Manager's briefing with everyone in there.
The playing surface outside continues to decline, lumps and bumps, tuffs and moss augmented the holes this year. Sad to see, but on a plus note Croquet is being played on it's 2014 Commonwealth built Bowls Facility in Glasgow.

The players this time were all in a single block, all play all, untimed 13point games with the top four qualifying for the title run knock out (Bo3). A ranked consolation KO was available for those who failed to qualify.

All played nine games by home time on the first day, with the balance completed Sunday morning - although a few did want to leave earlier due to tired legs! (one pedometer reported 10.5 miles covered, but I don't believe it).

The four highest ranked players were true to form & qualified for the KO which started an hour before lunch, with the final being fought by the two highest - could James retain the trophy for a second year? Err, No. He fell in two to the 2009 champion, David Walters.


Hosted by Bury CC
Managed by Paul Rigge.
Bury Chair Paul Kenworthy presented the Trophy to David Walters. The Consolation Singles KO title was won by Jane Pringle after a cracking match with Kath Wright..
Title Knockout
James Hopgood
James 7-2 4-7 7-2
David
7-2 7-4
Paul Rigge
Ray Mounfield
David 7-3 7-4
David Walters
Consolation KO
Ken Eccles
Ken 7-3
Kath 7-2

Jane 7-6

Ros Pimlott
Bob Connop
Kath 7-3
Kath Wright
Freda Vitty
it was raining
Jane w/o
Maggie Cowman
Graham Good
Jane 7-5
Jane Pringle
| | | | | | | | | | | | | | | | | |
| --- | --- | --- | --- | --- | --- | --- | --- | --- | --- | --- | --- | --- | --- | --- | --- | --- |
| | JH | DW | PR | RM | KW | FV | MC | JP | KE | ME | BC | GG | RP | | Wins | Losses |
| James Hopgood(-1) | | 1-7 | 7-5 | 7-3 | 7-1 | 7-3 | 7-1 | 7-3 | 7-4 | 7-4 | 7-1 | 7-5 | 7-4 | | 11 | 1 |
| David Walters(-1) | 7-1 | | 7-6 | 7-4 | 7-4 | 6-7 | 7-1 | 7-4 | 7-2 | 7-0 | 7-3 | 6-7 | 7-5 | | 10 | 2 |
| Paul Rigge(0) | 5-7 | 6-7 | | 3-7 | 7-3 | 7-4 | 4-7 | 7-5 | 7-4 | 7-2 | 7-4 | 7-6 | 7-3 | | 8 | 4 |
| Ray Mounfield(1) | 3-7 | 4-7 | 7-3 | | 7-3 | 7-4 | 7-6 | 5-7 | 7-2 | 7-3 | 5-7 | 7-3 | 7-5 | | 8 | 4 |
| Kathleen Wright(2) | 1-7 | 4-7 | 6-7 | 3-7 | | 7-2 | 4-7 | 7-5 | 6-7 | 7-3 | 7-1 | 5-7 | 7-2 | | 5 | 7 |
| Freda Vitty(2) | 3-7 | 7-6 | 4-7 | 4-7 | 2-7 | | 7-6 | 6-7 | 5-7 | 7-2 | 7-5 | 5-7 | 7-2 | | 5 | 7 |
| Maggie Cowman(3) | 1-7 | 1-7 | 7-4 | 6-7 | 7-4 | 6-7 | | 7-4 | 3-7 | 7-4 | 7-4 | 5-7 | 7-3 | | 6 | 6 |
| Jane Pringle(2) | 3-7 | 4-7 | 5-7 | 5-7 | 5-7 | 7-6 | 4-7 | | 4-7 | 7-5 | 3-7 | 7-2 | 7-3 | | 5 | 7 |
| Ken Eccles(3) | 2-7 | 2-7 | 4-7 | 2-7 | 7-6 | 7-5 | 7-3 | 7-4 | | 7-6 | 6-7 | 7-5 | 7-3 | | 7 | 5 |
| Margaret Eccles(3) | 4-7 | 0-7 | 2-7 | 3-7 | 3-7 | 2-7 | 4-7 | 5-7 | 6-7 | | 3-7 | 2-7 | 6-7 | | 0 | 12 |
| Bob Connop(2) | 1-7 | 3-7 | 4-7 | 7-5 | 1-7 | 5-7 | 4-7 | 7-3 | 7-6 | 7-3 | | 4-7 | 7-1 | | 5 | 7 |
| Graham Good(3) | 5-7 | 7-6 | 6-7 | 3-7 | 7-5 | 7-5 | 7-5 | 2-7 | 5-7 | 7-2 | 7-4 | | 7-5 | | 7 | 5 |
| Ros Pimlott(6) | 4-7 | 5-7 | 3-7 | 5-7 | 2-7 | 2-7 | 3-7 | 3-7 | 3-7 | 7-6 | 1-7 | 5-7 | | | 1 | 11 |
Coronation Park, 15th April, Private Birthday Party.
A non-member who lives near Whitehead Park decided to have a Croquet themed birthday party this year but on the chosen day, Whitehead Park was not fit for play so it was held at Coronation Park in the afternoon.
The the usual hosted group procedure of a bit of coaching and then some games of golf croquet and then into the clubhouse for the party. Food and drink in quantity appeared from all the guests and the celebrations went on for some time - overlapping with the arrival of member players.
The helpers and anyone who arrived were also given lots of food and a good time was had by all.
Coronation Park, 18th April, Open Day.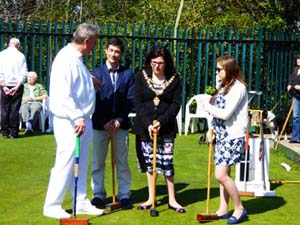 The open day was in support of Bury Hospice and the event raised £433.00.




Photo is of Mayoral party with BCC Chairman Paul Kenworthy






24th April - School Kids visit CP
Fourteen primary school children accompanied by two teachers from a local school were introduced to Croquet by the CA's Child Safeguarding Officer (Child Protection).
All quickly grasped the concept and enjoyed the afternoon session.
Pendle & Craven 25/26th April, Neil Williams NW Federation Advanced Tournament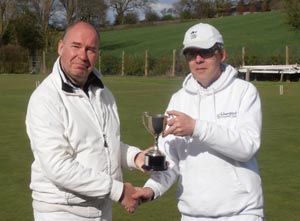 Woodlands Trophy - Andy Brandwood.
Managed by James Hawkins.
Both Riggey and Andy Brandwood represented Bury CC at this years Advanced Millennium Event, held up at Earby in bright sunshine - well on the Sunday at least.

Andy continues to be very solid and easily won the 'B' level from all the others in his class from across the entire Federation, despite spending both days complining that his standard of play, in his opinion was rubbish.
Riggey gathered a load of points (31) but no silverware.
Bury CC Golf Progressive Doubles 5th May 2015 - Report by Jean Hargreaves (12/5/15)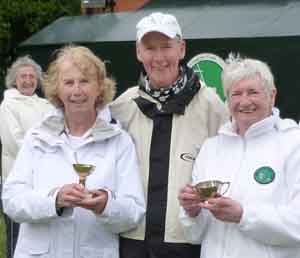 16 members came on a mainly sunny day to join in with the club Golf Progressive Doubles.

Unfortunately 2 others were unable to play due to illness. Low handicap/more experienced players were partnered with the higher handicap/ less experienced players for the event.

Many well fought but enjoyable games were held throughout the day with the semi-finals resulting in play between Jean Hargreaves and Maureen Whittle versus Ken Eccles and Derek Deadman on one lawn and Elinor Dean and Gill Freely against Judith Gaskell and Susan Hardman on the other lawn.

The first ended with a win for Derek and Ken 7-4, the second a win for Gill and Elinor again 7-4.

Some excellent play by all was seen throughout the enjoyable day.

The final was another well fought battle with Gill and Elinor winning 3-2 after time!
Well done everyone.
Whitehead Park 9th May, NW Federation Hcp Golf Tournament - Report by Jean Hargreaves(12/5/15)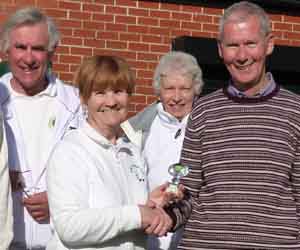 The venue for the tournament had to be changed to Coronation Park after heavy rain made it impossible to mow Whitehead Park lawns for the event at Whitehead. Despite this and flooded lawns on the Friday, the day started fine and the lawns had drained very well before a ball was struck.

The morning was cold with one episode of rain but the weather changed for the afternoon to give a lovely finish to the day.

8 players from 4 clubs (Bowdon, Bury, Chester and Culcheth) joined in the tournament. The format was all play all. Chris Slater (Chester) started well by winning all 4 games before lunch. The challenge was set who could beat him in the afternoon? Answer Chris lost his next 2 games so that at the end of round 6 Chris and Vi Richards (Bury) had each won 4 games with 4 other players having won 3 games each leading to a crucial final round. This round was fought extremely well but eventually Chris lost on the Golden Hoop whereas Vi won her game on the Golden Hoop having fought back from being 2-6 down!

4 players each won 4 games.

Congratulations Vi, and to all the players for giving us a good day of croquet.
And up at Crake, a similar story, they hosted the Federation's Hcp Tournament over the same weekend.
Bury sent last year's winner but not heard a word, so I'm guessing it wasn't retained by us.

Coronation Park, 12th May, Coaching Pod
Players from three clubs gathered for the first POD of the year. Subject was the '4-ball break' and how to reduce the risk of break downs whilst playing them. Good stuff, lead by Matt Holmes.
Whitehead Park, 25th May, 'Come & Try' Open Day

Four, hour long introductory sessions where held throughout the day on Bank Holiday Monday to enable members of the public to try their hand at this sport and to have a first look at the newly revamped hut in their local park.

The area had been heavily leaflet dropped to publicise the event for two weeks leading up to the holiday weekend to encourage a viable attendance.
Southwick (Brighton) Croquet Club, May 23-26th, 2015 Inter-Counties.
Lancashire bounce back into top flight, Division 1, at the first time of asking by winning Division Two outright over the Bank Holiday Weekend.

From Bury, both Matt Holmes & Paul Rigge made the trip down to help secure this promotion. The county team this year exemplifying the sexual equality of Croquet by being the only county to field three women on each day of the championships (total of six players/team required).

Yorkshire again succumbed to a 3-0 drubbing at our hands but unluckily also failed to gain enough wins to join us up a level, so that was the last *roses* match and dinner for a least a couple of years - shame, they are a good laugh to be around.

Our other nearest neighbours, Cheshire will have to supply our entertainment next year. They again just did enough to remain outside the relegation zone.


Photo Paul. Liz Wilson, Ailsa Lines, Annabel McDiarmid. Matt, Dave Openshaw(C), James Hawkins.

Durham, 27th May, Murphy Shield Round One

Bury sent a team consisting of Ken and Margaret Eccles, Vi Richards and Barbara Young to Durham to play in this fairly new CA National Competition (Est. 2010).

The Murphy Shield is a knock-out Golf competition for club teams of four with a handicap restriction overlay. The total handicaps of the team members must be at least 12 and there can be no more than one member with a Hcp of 2 and none below that.

Margaret reports;
Getting off to a good start against last year's winners, playing best of three with no time limit we were drawing 1-1 at lunch.

Slightly bemused as to why the 'red hoop' was hoop 10 and not hoop 5. We were told 'Well it's like this pet, that's so we know it's the golden hoop'. Anyway after lunch things did not go according to plan and in the end we lost 5-2.

We did, however, enjoy our couple of days in Durham. Full results on CA site.
Weekend round up 30/31st May,
NW Federation Level Golf Tournament 31st - Bury sent Two enteries along to Chester, Ken & Margaret Eccles. The event was managed by our own Jean Hargeaves and David Barrett who report;

"Ten players from 6 clubs joined in the first Federation Level Golf Tournament. We gave a big welcome to our friends from Craig Y Don. As far as I know this is the first tournament the club has entered except for the Festival.
The day was fine but started very cold with a very unfriendly wind. The day brightened later but was only a little warmer.
The format was all play all with no time limits. Handicaps varied from 10 to scratch but despite this variation the games were well fought with the results mostly not giving a true picture of the battles that took place, sometimes lasting several minutes at one hoop.
After round six there were three players each with five wins - Maureen Ivens, Garry Greenwood and Paul Rigge, leaving all to be played for in the last three rounds. Maureen beat Garry in round 7 but lost the last two. Garry won his last two and Paul won all his last 3 games. This meant that Paul was the winner with 8 out of 9 wins, Garry on his tail with 7 wins. Congratulations Paul on your success.
A big thank you to Chester club for hosting the event and special thanks go to the catering team. They did a marvellous job especially dealing extremely well with the various dietary problems amongst the players and managers.
Paul had changed out of his whites prior to the presentation of the trophy unfortunately but he had had an earlier problem concerning his whites and some jam!

NW Federation Short Lawn 14pt Tournament 30th - Bury sent the Two Margarets; Anderton & Eccles, noticable because they played in Bury colours - bright yellow, but neither got out of the block stage.

Andy Brandwood went over to Nottingham for their 'B' Level Weekend (Hcap 0-9), trying to collect his next CA badge in every game - failed, but came back with a creditable 4/6. (It was won by Lancs team-mate, Annabel).


Week round up 1st/7th June,
Tuesday - Brownies coaching session.
Thur afternoon - Another School Visit.
and Brandlesholme Church Ladies' Group Visit to Whitehead Park.
Ten ladies played short lawn golf croquet using the new club mallets. By the end of the game they were really getting the hang of hitting the opponent's ball away instead of always going for hoops.
Some of them remembered the last time the group visited BCC, back when the club was at the Athletic track!
Friday, Private Party.

At CP on the Saturday, Club's Association Doubles - Manager Barbara Young reports;
Eleven club members assembled at Coronation Park on Saturday 6 June to take part in the Association Club Doubles competition. Previously called the Fun Doubles this is the oldest competition held at the Club being first run in 1990. It is organised as alternate shot doubles with low and high handicap players paired together and the pairings changed every round so each high handicap player gets a chance to play with every low handicap player.
After a most enjoyable day of play in (nearly all dry) but cold weather, 5 rounds of matches had been completed and two clear winners emerged much to the relief of the manager, who did not have to suddenly work out a tie-break system.
The winners were;
Low handicap - Margaret Anderton 4 wins out of 5
High handicap - Margaret Eccles 5 wins out of 5
Congratulations to both. Derek's Photos from the Day

At WP on the Sunday, The Club first official match on new surface - Advanced League Game Vs Pendle. A fixture that was rescued by Sue & Mac Hardman's valiant efforts, teething troubles still dog the place - the oven at WP couldn't be powered so Lunch was collected cold from the park & delivered Hot after using their own domestic facility - above and beyound guys! - Thanks and big hugs...

Meanwhile Matt went of to compete in the National Men's Championships and also hooked up with Annabel to try mixed doubles. On his own did 6/10 and made it through as far Du Pre KO Semi Final, with the partnership falling to the eventual winners in the first round.
Weekend round up 13th/14th June,
Riggey entered Pendle's Advanced Tournament - finished as 'bridesmaid' to Dave Kibble in both KO & Class A Block after ten games, with 7/10.
Ken and Margaret Anderton played over in Hunstanton in a full field of 20.

Coronation Park, 16th June, Coaching Pod
Players from four clubs gathered for the second POD of the year. Subject this time was leaves (or leafs) before 4 back. Matt covered the Diagonal Spread in detail, then allowed practice of it twice. Then covered NSL, OSL & MSL, that too was practiced in the evening sunshine.
Weekend round up 20th/21th June,
Matt went down for the Colchester Advanced - home club to Wixy and a certain Mr R Fulford...every game finished with letters behind it, with Matt managing 3/8....Dont poke bears in their own cave!
Spice Group Played Friday Evening at CP 19th June.
Bolton 41 Club Played at CP 23rd June.
Nottingham 26th/28th June,
Matt's again entered The Championship of the East Midlands with a full field of 32 contesting the title. He achieved 8/13, so is still on the rise!
Southport Annual Festival 27th/28th June,
The Yellow squad are winners again! - Repeating the duel result we managed back in 2011, Short Shield and Overall Title.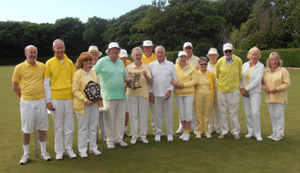 A very successful weekend blessed with good weather, 18 members stayed on Saturday night (and 10 on Friday) at an excellent hotel and enjoyed an Italian meal both booked by Susan Hardman. Thanks to Susan for making these arrangements which work out so well every year.
Out on the lawns the Advanced Doubles were fought by Ken Anderton and Barbara Young on Saturday but they faced much stronger opponents including an ex-International and did not win any games. On Sunday Ken was joined by David Barrett and managed to win a slow game which ran out of time.
The Handicap team had 4 players; Malcolm Daines (Captain), Graham Saunders, Margaret Anderton and Richard Harvey - as previous experience showed that four 18-point games in a day is very exhausting and a sit-out each is welcome. Everyone won at least two games and overall the team won 3 matches out of 7.
The Short team however had an extremely successful series of matches. Vi Richards(Captain), Jean Hargreaves and Margaret Eccles with Barbara Young joining in on Sunday won 5 out of 6 matches and at the end of play thought the winning outcome was between Bury and Southport. They were amazed therefore when the manager announced that the Short winners were Westmorland! The trophy presentation was made and photographs taken but within a minute a mistake was declared and the winners were announced to be Bury! Westmorland had to give the trophy back and Vi proudly collected the Short Croquet Shield on behalf of our Club.
The Golf team also had 4 players; Ken Eccles (Captain), Derek Deadman, Gill Freely and Sue Sandiford and a very relaxed timetable against 8 other teams but unfortunately only modest results.
The final announcement by the manager is the winner of the overall Championship and after keeping us on tenterhooks by naming the third and second places he stunned us all by announcing that the winners of the 2015 Championship were Bury. Overall captain Barbara Young and all 14 players went up to collect the North West Federation Club Championship Cup from Federation chairman Garry Wilson and manager Keith Roberts.
This report would not be complete without a reference to the missing Bury name. NWFCC Secretary Paul Rigge, who was resplendent in his usual sartorial extravagance, this year in blue having opted to play for Fylde in the Advanced, thereby ensuring that they won that trophy.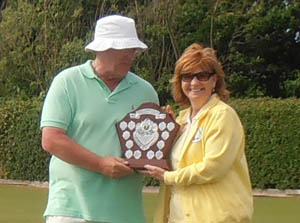 2nd July, Longman Cup 1st round.
Having asked, and been granted, the CA for an extension to the cut-off date beyond June to prepare the surface, Bury lost in first round of this year's National Competition again. Thrashed at home (CP) by a record equalling margin of 6-1 at the hands of Crake (the only other time was away at Nottingham 2008).
Taking a leaf out of the Lancashire Squad's book, Mac selected two women to his side this year but with a very different outcome - well not really, we're out at the first fence again - who gave us the single win? Why our Margaret Eccles of course, who readers will remember debuted at AC in this tournament last year.
Full results, Bury names first
Graham Saunders(7)/Margaret Eccles(18) Lost to
Howard Bowron(4)/Ivan Wheatley(9) -10
Vi Richards(20) Lost to Jim Allcock(7) -10
Mac Hardman(14) Lost to Ian Hall(7) -9

Saunders lost to Bowron -13
Hardman lost to Allcock -13
Eccles beat Hall +26
Richards lost to Wheatley -15
4th July, Secretary's Shield 2nd round.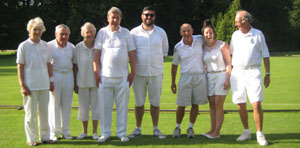 Bury last qualified for this National *winners* KO in 2005 and fell at the first hurdle back then (we did win it in 1993), so we were pleased to get a bye through the first round this time. *Peelers*, lead by our Chairman Paul Kenworthy, travelled over to Nottingham - he reports;
Following our success winning the NW Federation handicap league in 2014 Bury Peelers went to Nottingham to contest their first match of this year's Secretaries Shield.
Despite a 2-1 lead at lunchtime we unfortunately lost 4-3 overall.
Paul Kenworthy (2) and Ken Anderton (4.5) contested the doubles against Omied Hallam (0.5) and Michael Flannigan (4.5) and won despite Omied pegging off their forward ball resulting in some very neat 3 ball play by Ken.
Margaret Anderton (10) won her singles against Ian Draper (8) +1 on time.
Barbara Young (5) lost to Sophie McGlen (14) who used her bisques well.
In the afternoon Paul lost to Omied failing to capitalise on some unforced errors by Omied.
Ken lost to Michael after a somewhat scrappy game, Barbara lost to Ian Draper and Margaret won again against Sophie.

Nottingham's hospitality was superb and an enjoyable day was had by all.
Full results, Bury names first
Paul Kenworthy(2)/Ken Anderton(4.5) Beat
Omied Hallam(0.5)/Michael Finnegan(4.5) +8
Margaret Anderton(10) Beat Ian Draper(8) +2T
Barbara Young(5) Lost to Sophie McGlen(14) -23

Kenworthy lost to Hallam -15
K Anderton lost to Finnegan -9
Young lost to Draper -20
M Anderton Beat McGlen +14
Week round up 7th/10th July,
Three club members entered the Pendle Mid Week Tournament (Ken & Margaret Anderton and also Graham Saunders), none got mentioned in any dispatches...
Whitehead Park, July 11th, National 'B' Golf Competition.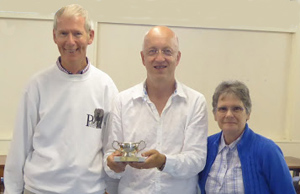 Hosted by Bury CC
Managed by Bury member Jean Hargeaves.

Winner - Garry Greenwood (Chester).

Following a late drop out 13 players enjoyed the mainly fine weather and sunshine at Whitehead Park to battle it out for the Bury CC Round of this National B Level Golf tournament.
Play was in two blocks, all play all, with many keenly fought games several of which went to the Golden Hoop.
The eventual winner from Block A was David Widdison (Bishop Monkton)with 5 out of 5 wins.
Block B winner was Garry Greenwood (Chester) with 6 out of 6 wins.
In the K/O, Garry played Mags Crossland (Sheffield), who had 3 out of 5 wins having beat Ken Eccles who also had 3 wins, in one semi-final whilst David played Keith Terry (Pendle and Craven), who had 4 out of 6 wins, in the other.
Both ended in 7-5 wins for Garry and David. In the play-off for 3rd and 4th places Keith beat Mags 7-6.

The final between David and Garry was quite a nail biter. After hoop 2 it was 1 all. Despite good play from both players David went on to win the next 4 hoops making it 5-1. At this point Garry staged a comeback and again with excellent play from both players clinched the game on the Golden Hoop to win the tournament.
Congratulations to all and good luck in the final on 10/11th Oct Garry.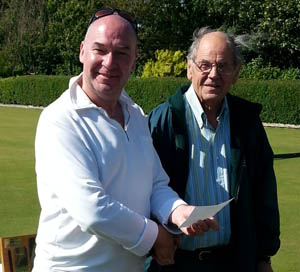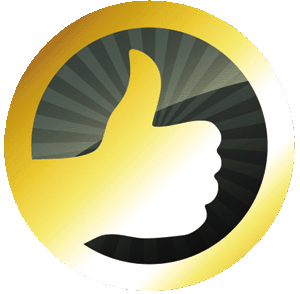 Southport Super B Advanced Weekend,18/19th July,
Both Andy Brandwood & Malcolm Daines played in the Southport Super B Advanced Weekend, restricted to entries (Hcp 0.5-10)...
Andy achieved his CA *GOLD* merit award for knocking out a TP - that's a Triple Peel finish against in-form Clive Goode
In so doing, he becomes only the third club player to collect the Bronze, Silver & Gold merit awards from the CA. He also claims his gold on exactly the same time-line as Paul & Matt previously -
Two years after getting the Silver & only in his forth full season!
Well Played Andy! Very pleased for you.
Eastern Championship, Wrest Park 24/26th July,
Matt Holmes, Got Seeded into the third slot in this 'A' class Championship
Rain all day Friday didn't dampen his style or progress, Saturday found him safely into the Semi's in bright sunshine.
But, out after 1-3 loss...(think he now prefers to play in the rain).
A consolation match on Sunday (in the rain again) took six hours to finish in his favour!
AC *Fun* Day, Whitehead Park 25th July,
18 players from 2 clubs took part which included players from Urmston club with their first attempt at Association Croquet, and one of our new members Barbara Whitehead, and prospective member Peter Davey at only his second go at croquet having first gone to the club on Thursday evening.
We all enjoyed lovely weather and lots of fun with varied croquet games.
Two prospective members joined the event for a couple of hours in the afternoon also, bringing the total to 20:-
Barbara Young won the Ten Minute event. Barbara and Ken Eccles ( first time playing Association) tied with Ken Anderton and Peter Davey for the Flamingo so a deciding match took place with Barbara and Ken E winning 13 - 7.
Because the Manager (JH) forgot the 'Getting in the Washing' game was a single game requiring a prize for each of the winning pair, and had thus only one prize to present, a peg out event took place between Paul Kenworthy and Peter Davey.
Rather unfair on Peter who lost out to Paul. I duly apologised to Peter.
A good day had by all.

Coronation Park, 4th August, Coaching Pod
Players from two clubs gathered for another targeted POD. Subject this time was 4b and Peg leaves lead by Matt Holmes, who also through-in 3ball endings.
Championship of Surrey, Surbiton 7th-9th Aug,
Matt Holmes, seeded eighth in the 47th running of this grade one championship.
True to form he fell in the Qtrs, but rallied in the plate to finish the weekend 6/10 dispite trying weird forms of play like SXPO's!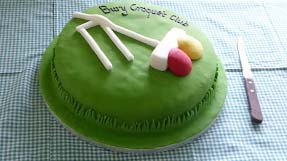 Golf *Fun* Day, Whitehead Park 11th Aug,
Jean Hargreaves; 46 people representing 5 clubs enjoyed this Fun Day in very pleasant weather.
There were 7 main fun games to be played and 2 'sideshow' games. Players changed partners for each game with experienced players partnering the many newer players who came for the first time.
Everyone enjoyed the day including the food. A Guiding colleague of Jean had made a special cake for the day. Thank you Amanda.
Thank you to everyone who helped in any way.
The winners were;
Joker - Anne Connop and Kath Hough(Culcheth)
Bonus - Denis Cook(Culcheth) and Leonard Ainsworth(Fylde)
Double Evens - Derek Deadman(Bury)
Mini - Denise Blythin(Urmston)
Scoring Bisques - Eileen Lloyd(Culcheth)
Straight Line - Janet Smith(Fylde)
10 Minute - Denis Cook(Culcheth)
Crazy Croquet - Walter Busuttil(Bury)
Crolf - Bernard Groom(Culcheth)
Corporate Partys, 11-14th Aug.
All Saints Church Mens group at Whitehead Park 11th Aug. Thirteen gentlemen came to enjoy the pleasant summer evening playing croquet. Having been started off by club members they quickly picked up, or for those who had been before reminded themselves of, the shots and the tactics and had very competitive games amongst themselves.
St. Thomas' Guides at Coronation Park 13th Aug. Sixteen members of the Unit descended upon our lawns at Coronation Park to enjoy an evening of croquet. The evening started fine and all enjoyed getting the games going. Then it started to rain but the girls insisted on finishing their games before going in for refreshments. While having these the rain got much heavier so unfortunately that was the end of the croquet for the evening but the girls continued to enjoy themselves playing a game around the table. The girls said they had enjoyed the croquet despite the rain.
Nottingham Annual Tournament, 17th-22nd Aug,
Two members entered this week long event, Andy Brandwood & Barbara Young. Both playing in the Hcp event, but then their paths separated as Andy played in the class advanced singles and also in the doubles, so had a heavy weeks work, Barbara played in the B class - no silverware collected by either.
Corporate Party, 23rd Aug.
Spice under 40's Social Group booked CP for the day. We had 9 players, none of whom had played before, so together with 3 club members we made 3 groups on the lawns.
Everyone had a good late morning/early afternoon session. and entertaining it was too. Hopefully, from the the chatter, will re-book for next year..
Crake Rock Clock, 22/23rd Aug,
Riggey got as far as the semi's, losing to Nick by 2 on time - sigh....4/6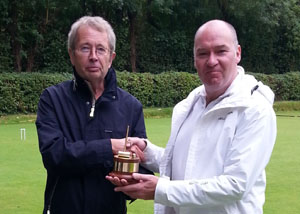 Edgbaston Tournament, 30/31st Aug,
Three members entered this Bank Holiday two day event, Andy Brandwood returned to defend the Sally Nichols trophy for this 'B' Class event. Although a narrow winner on a split tie last year he won all five games in fine style including a TP against highest-ranked entrant Clive Goode.

Bank Holiday rain delayed the Monday start but did not prevent sufficient play for all to get five full games in.

Based on current Handicaps, Malcolm Daines was 7th strongest & Graham Saunders was the weakest in the field but both had a good wins with Malcolm 3/5 & Graham 2/5.
Southport, Chairman's Salver, 10th-13th September 2013.
Bury's Matt Holmes, Finally (rightly) got elevated into the second CA 'Eight' at the eleventh hour, he had been initially listed as 3rd reserve despite winning each of the lower divisions at each attempt.

The late notice did affect his preparation however, since he didn't win this one! Only finishing with 4/14, but he was the only player outside the Presidents to complete a winning quad - high quality.
Ashby, Sept 12th, Grass Roots
Derek Deadman was runner up at the Grass roots final.
He was the only person winning all their group matches and he won his semi-final but lost in the final.
He won 6 lost 1 so his index is now nudging 300 so a six handicap beckons. The day proved to much for Derek as he was just exhausted for the final and lost concentration with a very low sun in his eyes.
( The lawns were abominable but that was the same for everyone )
Ashby, Sept 13th, Centre Stage
Margaret Eccles enjoyed the above reaching the semi-final but was beaten by the eventual winner. She won the play-off coming 3rd overall.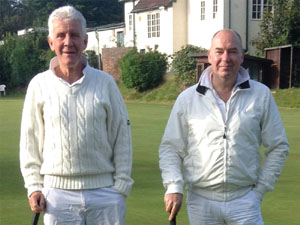 Bowdon B Tournament, 19/20th Sept,
The same three 'B' level amigos entered the Sheila Black Salver down at Bowdon for the weekend, and all started well with wins for all our members in the first round of the KO.

Graham falling at the second and Malcolm loosing to Andy in the third. Which takes us into the Final; Andy loosing out 1-2 in the B03 to Andrew Webb.

Andy Brandwood 4/6, Malcolm Daines 3/4 & Graham Saunders 1/4.


20th September, Bury Club Win the Short League
Having won the Federation Festival on the back of a strong showing from our short lawn team... they have carried all before them
to win this years League.
Colchester, All-England GC Handicap National, 20th September
Margaret Eccles just missed out on the Title, finishing second on 9/14 after a strong performance, with a 'bad back'.
Coronation Park, 21st September
Eight Players from Urmston Croquet Club descended on CP for a friendly inter-club *Match* (golf only).
Compton, 25th/27th September, South of England Championship
Matt played in his final tournament of the year, still chasing Bury's first *live* sextuple in open play and paid the price, only managing 3/10 - but he's having fun trying!
Whitehead Park 4th October, Not A Final In Sight Day
Paul Kenworthy writes; For various reasons people who feature in the finals are unable to attend. Hence my proposal is that we go ahead this Sunday with a social event - Play some croquet, Eat some tatty pie and enjoy good camaraderie with fellow members in this late Indian Summer weather.

So, we meet at WHITEHEAD PARK at 10.00 a.m. - This gives us more lawns on which to play whatever croquet we want against who we want.

Soooo.... 14 members turned out for a impromptu tournament with our new venue set out with two full & two half courts, lunch was of course Mac & Sue's meat & spud pie (with mushy peas!).

Please continue to play the outstanding matches when you are able before the end of the season and we can then award the trophies at the November General meeting to the recipients.

Competed Finals;
Advanced; Rigge won innings and went to 4B but messed up leave. Holmes to Peg with TPO. PR got H1 from standard contact leave but missed 8yrd reception to EB. MH to peg with 3bb. (+13TPO).
Game 2; PR won innings to 4B and leave. MH missed lift. PR finished with TP.
Game 3; Very interactive game.... scrappy start, MH to 3, PR to 2, MH H3 to 3B with leave. PR hit lift but stuck in H3.
More hide & seek as both shot well and laid leaves that got hit!. MH got going but dropped quad at penult. More Hide & seek.
MH of and running...+23.

Handicap; Matt hit his own N boundary tice 4th turn, scored hoop 1 but failed rollout from C2 for H2.
Malc set up 4bb with 1.5 bisques then went round to Penult *without* a further bisque and left a squeeze.
Matt hit but failed to get a hoop ......
Malc round to Peg with a single bisque left.
Matt hit (nearly) everthing Malc left.and had malc off...3 ball ending all over after 2:40hrs..(First time the double has been done in AC)!

Short; Very tense messy affair that as the clock alarm expired at full time had both scores level! Margaret eventually pinching the winning hoop. +1t.

Level Golf; David ran away with it 7-2, 7-4 in tremendous form, hitting most clearances from distance and running hoops smoothly whilst playing a very tactical and competitive game against Margaret who unfortunately was having trouble with her swing due to cold hands (her comment - "had help from above with some of the shots he played")....

Hcp Golf; First game was a tightly fought affair with both players clearing well and Margaret spending her two available 'extra turns' wisely to the point where time ran out just after H9 was run.
Time was again an issue in the second game, sounding as Margaret ran the 'winning' hoop.
With light fading, the halogens were bought out and utilized as play continued all the way to Hoop 13 - scored by Margaret to achieve a club double..

The High Handicap Golf has been played during a regular club session and resolved in Barbara's favour - unknown score, but congratulations on her first Title Win are Due.
Full Details
AC 26pt Advanced
AC 26pt Hcp
AC 14pt Hcp

Golf 13pt Level
Golf 13pt Hcp
Golf 13pt High Hcp

WINNER
Matt Holmes +13TPO, -26TP, +23
Matt Holmes +3
Margaret Eccles +1t

David Barrett 7-2, 7-4
Margaret Eccles 4-6t, 7-5, 7-6
Barbara Evans

FINALIST
Paul Rigge
Malcolm Daines
Graham Saunders

Margaret Eccles
Paul Kenworthy
Susan Hardman.
Rippon, 10th/11th October, Black Sheep Golf Doubles
Two of our couples, Ken & Margaret Eccles with Derek & Hilary Deadman entered the last golf fixture of the season over at the Ripon Hotel.
K & M reaching the final together against a couple from (eugh) Yorkshire.. unfortunately contriving to lose to the white rose pair.
Geoff Young, 24th October RIP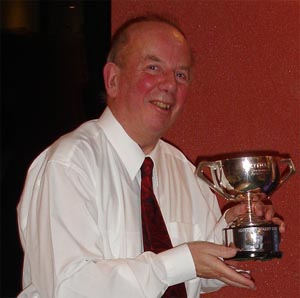 Lourdes Centre, 27th November, Club AGM
Due to development work recommencing on the hut at Whitehead Park, Our AGM was again held at the Lourdes Centre.
Another well supported meeting with 60% of the membership braving the driving rain (again) to hear (and vote upon) just what the Committee has been up to, and what is planned for the next season.
Main points - CP still rocks! Internal Winter program of works already complete, outside overseeding & board maintenance will be by March '16.
Whitehead - Inside kitchen end to be completed by Xmas. Courts to be *fracked* to aid drainage as soon as it stops raining!
Membership Fees up but Local League teams down - one less Level Golf team & no 'A' class. However the club *will* contest more National competitions.
December....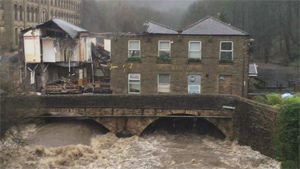 A very wet month rounded of the year...the courts at WP remained flooded (it looked more like a lake actually), so bad in fact that when *the fracking team* arrived to cure our drainage problems, they unloaded their equipment but all they could do was to load up and head back down to the dry south again - we were wetter than they'd ever seen.

Whitehead Park's kitchen was finished - well thats indoors, and a few players mangaged to sneak a game or two at CP between the heavy showers.

The Month ended with a entire pub being swept away just up the road from WP....

Season Dinner and Trophy Presentation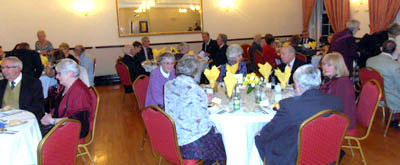 The Grand Masonic Lodge in the centre of town again hosted a perfect evening with attentive friendly staff, good food & drink, and let's not forget the excellent company who attended - members & friends both.

Club Chairman, in his final year, Paul Kenworthy listed all the club's various winners over the last twelve months and re-presented all the trophies to the happy recipients over the course of the evening.

Matt Holmes again had the best season with the most wins, chased by both Andy Brandwood and Margaret Eccles this year with three each, but Matt did win both the Club's Internal Advanced and Handicap competitions - a first for the club and Andy brought his new shiny CA Gold Badge.