Coronation Park
New Road
Radcliffe
M26 1LS
January 13th, The Rock - Ten Pin Bowling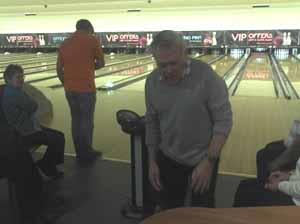 New Venue for our *regular* winter excursion to the Bowling Ally. Fears of excessive noise reduced the numbers attending this year to single figures, but a good night was had by the nine who did turn out on a wet night and I think we made more noise than the serious League Bowlers that filled the rest of the place!
As is usual, all had three games, and our 'Pro', Ken reversed last year's result by regaining the title and taking top spot, with Matt the runner-up. Riggey & Joan shared the Bronze step..
The Wooden spoon this year, for the first time, was Gill.
Full finishing order; Ken, Matt, Riggey/Joan, Margaret, Richard, Jean, Barbara, David - well done all.
Thanks due to Geoff & Barbara for sourcing venue again.
Afternoon Tea, 28th Jan.
Held again in Jean & Gordon's home which has proved such an ideal venue, as its open plan rooms enabled everyone to appreciate the tremendous effort the hosts had put into decorating each Table with its own individual theme.

The sandwiches. pastries and cakes where absolutely delicious and the various blends of tea was served by our lady hosts who were dressed in the appropriate black and white waitresses outfits.

The whole afternoon was a happy enjoyable occasion that raised £178.
Potato Pie Super, 15th Feb.
This proved to be an evening of 'close encounters' with 21 people all tightly packed into the lounge whilst Susan tested each of us with her special brand of Quiz questions.

On this occasion the questions proved very difficult for some of us, whilst other sailed ahead with the correct answers.

Mac's potato pie with mushy peas was fantastic, as usual. Seconds were of course available to all whilst other moved on to sample the delightful sweets on offer.
Winter Wanderings in South Africa give Bury member first win of season.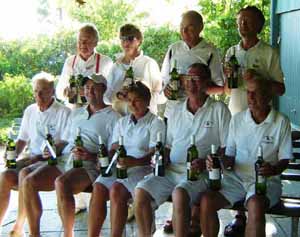 Chris Evans and Carol Steinberg (Bowdon) report about an enjoyable week in temperatures up to 40C at the Southern Cape Association Croquet Tournament held at Somerset West, Cape Town between 15th and 22nd February.

Tucked away in a quiet corner of Radloff Park under the mountains and in view of the vineyards is one of the best kept secrets in Somerset West!

Carol reached the final of the Restricted Handicap Singles (handicaps 6 to 16), losing narrowly to our own Graham Saunders by a single hoop.
March 21/22nd, Pendle - New World Record...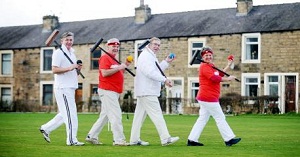 Paul Rigge, as part of this year's BBC Sports Relief fund raising activities was called into service to play Croquet for 24hours at Pendle Club, alongside Roger Schofield, Gary Wilson (who's Bl***y Daft idea it was) & Liz Wilson.

Pendle *challenged* the Federation officers to play them and raise money so doing, and us all being young & fit didn't think twice, after all how hard can it be? We used to all attend full weekend parties, didn't we?

Play started in high spirits and fine dry weather at noon on the Friday and early progress was made despite loads of interaction from both teams (PR/GW vs. LW/RS). At dusk the *floodlights* (four 500watt halogen's) were turned on so play could continue unbroken, and that's when nature turned on to; with wind, rain, hail, clear moonlight skies, all being rotated in turn during darkness - it introduced another tactic into the game; 'break down' and send oppo out into the rain/hail/colder bits and regain the innings afterwards when that bit of weather had passed!

Food (it's at Pendle remember), arrived, it seemed every two/three hours to keep our bodies fuelled for this marathon session, and fun and good conversation twix the *out players* kept sprits up through the long dark night - with the assistance of a donated bottle of Calvados when our 'spirits' really needed topping up.

The current world record (according to the Guinness Book) for number of hoops run in a 24hr game, is held by Crake in a match against Southport back in June 2000, the total was 402. By Noon on the Saturday, when the bell was rung (to our relief) to end the *timed game*, we'd managed 464!......but it will not count as the new *official* record, since nobody notified 'The Book People' before this event that we were making an attempt. However we did manage to raise more than £880 towards the charity total...smiles all round from us and the club got some great paper coverage.
Details of the sponsorship site, if you wish to contribute ( http://my.sportrelief.com/sponsor/24hourcroquet )
March 24th, Bury - New Season begins at our New Venue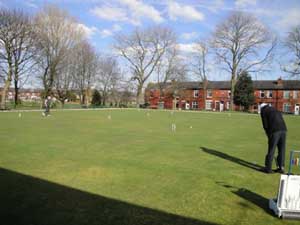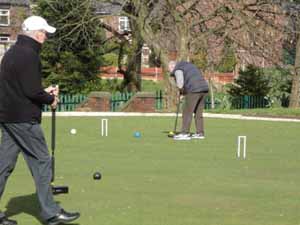 Off we go into the new season with early practice starting on our courts from Monday afternoon, Golf followed by AC untill the light failed.

The background vista might be unfamiliar to readers - our sessions this week are all at Whitehead Park.
Heaton Park 6th/7th April, 14th Lancashire International Open Golf Championship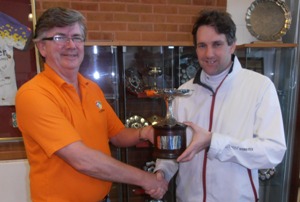 Only 16 players this year faced Manchester's iffy weather (sun/rain/sun/rain..) this early in the season, but what a sixteen! A World Champion, couple of Kiwi's plus another couple of Internationals from Wales & Scotland, finally a CA Council member in the field. As is now traditional for this event, the players were split into two blocks (all play all) with the top four from each group qualifing for the Knock Out (Bo3) title run.

Before a ball was struck, all Hcp cards were inspected and the new indexes were imposed following the winter changes.

This year the block games were contested to 19 points with the Bo3 KO reverting to normal 13 point contest for the Sunday, this worked really well with all games finishing about an hour before twighlight on the first day - although quite a few tired legs were admitted to on Sunday morning.

Seven of the seeds were true to form & broke out of the blocks, and then the top four achieved the Semis. Rachel (Ranked1) was the ony player to force her match into the third game in the KO, all other matches took two straight Games to maintain progress into the next round.

The effort of being a finalist yet again must have taken it's toll on Paddy, since James only needed two in the final to lift this year's title but some of his shots in that final surpassed Egypt's finest using in *new* technique.
Hosted by Bury CC
Mangaged by Paul Rigge.
Who also presented the Trophy to James Hopgood. The Consolation Singles title was won by Brian Storey & David Barrett presented him his prize.
Rachel Rowe(-1)
Rachel 7-2 7-4
Paddy
7-5 3-7 7-4

James
7-6 7-2

Jarrod Coutts(-1)
Paddy Chapman(-1)
Paddy 7-4 7-3
Paul Rigge(-1)
David Walters(-1)
David 7-5 7-1
James 7-3 7-6
Tim King(0)
James Hopgood(-1)
James 7-5 7-5
Ray Mounfield(2)
Blocks; www.croquetscores.com
| | | | | | | | | | | | |
| --- | --- | --- | --- | --- | --- | --- | --- | --- | --- | --- | --- |
| | RR | JH | PR | TK | DC | BC | JP | BK | | Wins | Losses |
| Rachel Rowe | | 08 - 10 | 08 - 10 | 10 - 07 | 10 - 07 | 10 - 04 | 10 - 04 | 10 - 07 | | 5 | 2 |
| James Hopgood | 10 - 08 | | 10 - 07 | 07 - 10 | 10 - 08 | 08 - 10 | 10 - 04 | 10 - 04 | | 5 | 2 |
| Paul Rigge | 10 - 08 | 07 - 10 | | 08 - 10 | 10 - 09 | 10 - 04 | 10 - 06 | 07 - 10 | | 4 | 3 |
| Tim King | 07 - 10 | 10 - 07 | 10 - 08 | | 07 - 10 | 10 - 09 | 10 - 05 | 10 - 05 | | 5 | 2 |
| Dennis Crossland | 07 - 10 | 08 - 10 | 09 - 10 | 10 - 07 | | 04 - 10 | 10 - 09 | 10 - 05 | | 3 | 4 |
| Bob Connop | 04 - 10 | 10 - 08 | 04 - 10 | 09 - 10 | 10 - 04 | | 06 - 10 | 10 - 07 | | 3 | 4 |
| Jane Pringle | 04 - 10 | 04 - 10 | 10 - 07 | 06 - 10 | 09 - 10 | 10 - 06 | | 10 - 03 | | 2 | 5 |
| Barry Keen | 07 - 10 | 04 - 10 | 10 - 07 | 05 - 10 | 05 - 10 | 07 - 10 | 03 - 10 | | | 1 | 6 |
| | | | | | | | | | | | |
| --- | --- | --- | --- | --- | --- | --- | --- | --- | --- | --- | --- |
| | PC | DW | JC | BS | AS | RM | FV | JL | | Wins | Losses |
| Paddy Chapman | | 08 - 10 | 10 - 05 | 10 - 05 | 10 - 03 | 10 - 06 | 10 - 03 | 10 - 04 | | 6 | 1 |
| David Walters | 10 - 08 | | 10 - 09 | 10 - 08 | 10 - 01 | 10 - 06 | 10 - 04 | 10 - 03 | | 7 | 0 |
| Jarrod Coutts | 05 - 10 | 09 - 10 | | 10 - 06 | 10 - 07 | 10 - 08 | 10 - 04 | 10 - 02 | | 5 | 2 |
| Brian Storey | 05 - 10 | 08 - 10 | 06 - 10 | | 07 - 10 | 10 - 09 | 04 - 10 | 10 - 06 | | 2 | 5 |
| Adrian Simmerson | 03 - 10 | 01 - 10 | 07 - 10 | 10 - 07 | | 08 - 10 | 10 - 09 | 10 - 02 | | 3 | 4 |
| Ray Mounfield | 10 - 06 | 06 - 10 | 08 - 10 | 09 - 10 | 10 - 08 | | 10 - 04 | 10 - 07 | | 3 | 4 |
| Freda Vitty | 03 - 10 | 04 - 10 | 04 - 10 | 10 - 04 | 09 - 10 | 04 - 10 | | 09 - 10 | | 1 | 6 |
| Joan Langridge | 04 - 10 | 03 - 10 | 02 - 10 | 06 - 10 | 02 - 10 | 07 - 10 | 10 - 09 | | | 1 | 6 |
Cononation Park, 11th April, Open Day.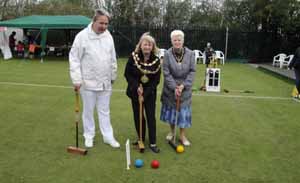 It was *game on* for Bury Croquet Club which opened its lawns to the public for its annual open day.

Always welcome, visitors were able to try their hand at this brilliant, life changing sport.

Among those taking part were the Mayor of Bury, Cllr Sharon Briggs, and the Mayoress, Shirley Rabbitt, while around another 50 adults and six children attended.

The open day was in support of Bury Hospice and the event raised £442.00. A little up on last year's £437 but not bad considering the weather.

Photo is of Mayoral party with BCC Chairman Paul Kenworthy



Southport, 11/12th April, Tankard Advanced Weekend.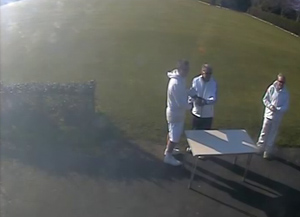 Both Matt & Andy wrapped up warm to play over in Southport for the weekend. As always it was run as a straight KO with Bo3 matches for the semi's and final.

Matt reached the final - well we know how much he likes collecting beer containers, by overcoming the loss of his first game against James Hopgood in the semi. Andy, being the weakest player in the field fell at the first hurdle but got some useful wins in the consolation event - expect his index to be alot higher in the next rankings publication.

Dave Nick - welcome back - overcame the same bad start in his semi against David Walters to win which culminated in an all Lancashire team-mate Final.

After a very interactive *single* game final (folks needed to get home) Matt eventually edged it to win.. Good start to the season.




Pendle & Craven, 18th/21st April, John Beech Easter Weekend.
Bury member, Andy Brandwood had a good showing at Pendle, finishing on the podium in third spot for the second time. He also was the only competitor to play against all the others this year, so earned the Ďmost games played over the four daysĎ trophy.

He continues to reduce his Handicap and is now carding at Hcp 4..


Heaton Park 26/27th April, Neil Williams NW Federation Advanced Tournament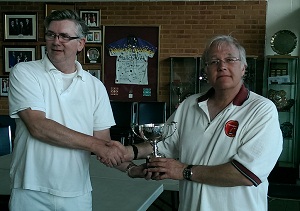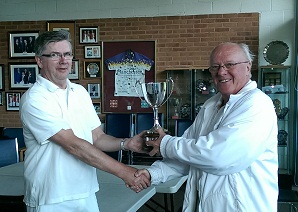 Generously Hosted by BCC
Managed by Paul Rigge.
Who also presented the Trophys.
Neil Williams Millennium Cup - Colin Irwin.
Woodlands Trophy - Defended by Robert Essler.
The 16 strongest players in the Federation (well bar two) ignored the weather forecast and attended this yearís Neil Williams at Heaton Park. The players were split into two, to enable both "8ís" to enjoy seven rounds of Ďall play allí over the two days with the dividing line between the blocks being either a positive or negative handicap card.

The forecast was again wrong with not a drop of rain falling during daylight so play was un-interrupted but it still didnít stop some games dragging on into darkness on the Saturday evening..... Some people just donít care about the managerís social life!

Thanks must go to Bury Club for again hosting the event and for supplying a huge catering team, we even got Ďstartersí before the Sunday meal (I do hope itís not the last hurrah for this venue).

All competitors stated that they had enjoyed the weekend and much fun was had over the entire weekend but particularly at the close when the manager tried to announce the winners in each block without taking into account the results from the last round....totally incompetent!

Winner of the Woodlands Trophy for ĎBí level; Retained by Robert Essler with 6/7 over Jerry Guest who also had 6/7 but his loss was against Robert. Jerry however has now played a record breaking 750 different opponents, 633 of them being wins!

As Paul then tried to award the Neil Williams Cup to Colin Irwin, howls of barracking and laughter ensured at his expense, as more and more players claimed they also had achieved the announced winning margin of 4/7 and they should get it instead. Back to the computer for the manager to check and re-check the final calculations until it was certain...Colin had indeed been victorious (on who beat who)!....thatís Paul's story and heís sticking to it..unless the full results below are flawed..
| | | | | | | | | | | | |
| --- | --- | --- | --- | --- | --- | --- | --- | --- | --- | --- | --- |
| Cup | CI | DW | BS | PR | AW | DN | JH | MH | | Wins | Losses |
| Colin Irwin | | +17tp | +25 | +13 | -4 | -2 | -15 | +14 | | 4 | 3 |
| David Walters | -17tp | | -1 | -4tp | +25 | +10tpo | +17 | +15tp | | 4 | 3 |
| Brian Storey | -25 | -4tpo | | -12 | +6 | +14 | +11 | -19 | | 3 | 4 |
| Paul Rigge | -13 | +4tp | +12 | | -16 | -12 | +15 | +23 | | 4 | 3 |
| Andrew Winn | +4 | -25 | -6 | +16 | | +23 | -10 | -24 | | 3 | 4 |
| Dave Nick | +2 | -10tpo | +14 | +12 | -23 | | +14 | -25 | | 4 | 3 |
| James Hawkins | +15 | -17 | -11 | -15 | +10 | -14 | | -23 | | 2 | 5 |
| Matt Holmes | -14 | -15tp | +19 | -23 | +24 | +25 | +23 | | | 4 | 3 |
| | | | | | | | | | | | |
| --- | --- | --- | --- | --- | --- | --- | --- | --- | --- | --- | --- |
| Trophy | TG | RS | JG | PW | RE | JF | LW | AB | | Wins | Losses |
| Tal Griffcock* | | | -20 | -23 | -13 | -7t | +3 | +1 | | 2 | 4 |
| Roger Schofield | | | -5 | +14t | +1 | +5 | +10t | -3t | | 4 | 2 |
| Jerry Guest | +20 | +5 | | +26 | -5t | +21 | +11 | +12 | | 6 | 1 |
| Peter Wilson | +23 | -14t | -26 | | -5t | -17 | +9 | +4 | | 2 | 5 |
| Robert Essler | +13 | -1 | +5t | +5t | | +18* | +4 | +12t | | 6 | 1 |
| John Filsak | +7t | -5 | -21 | +17 | -18* | | -3 | -22* | | 2 | 5 |
| Liz Wilson | -3 | -10t | -11 | -9 | -4 | +3 | | +20 | | 2 | 5 |
| Andy Brandwood | -1 | +3t | -12 | +4 | -12t | +22* | -20 | | | 3 | 4 |
* Tal Griffcock; Prof Alan Pidcock or Tom Griffith - who split the workload.
John withdrew for round 6 & 7, so Tom played in that slot.
| | | | | | | | | |
| --- | --- | --- | --- | --- | --- | --- | --- | --- |
| Who Beat Who | CI | DW | PR | DN | MH | | Wins | Losses |
| Colin Irwin | | W | W | L | W | | 3 | 1 |
| David Walters | L | | L | W | W | | 2 | 2 |
| Paul Rigge | L | W | | L | W | | 2 | 2 |
| Dave Nick | W | L | W | | L | | 2 | 2 |
| Matt Holmes | L | L | L | W | | | 1 | 3 |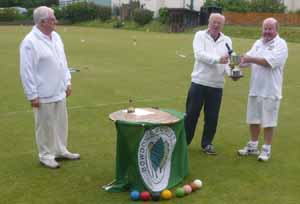 May Bank Holiday (1st one) 3rd/5th May, Tournament Roundup.
Bury's highest ranked player, Matt Holmes entered the Western's championship down in Dorset for the three day weekend. Even though he fell at the first stage to a player ranked 30-odd (UK) places above him, he still managed to gain more points than he lost by achieving a 5/9 ratio.

Riggey also got beat in the first round (by the current World Champion), at the Coles Championship in Cheltenham. He also managed to gather a few extra points on his card - also with 5/9.

But the main story of the sunny weekend must be about Member Graham Good. He entered his *home* Handicap event, at Bowdon and only dropped a single game on his way to lifting the title (must now be Hcp 10/12 - keep the momentum going!).

Full Details of his win & Pics



Bury CC Golf Progressive Doubles 6th May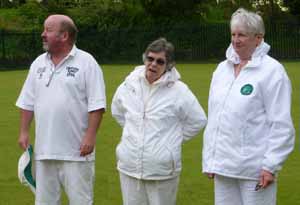 20 members came on a mainly sunny day to join in with the club Golf Progressive Doubles.

Low handicap/more experienced players were partnered with the higher handicap/ less experienced players for the event. Several well fought but enjoyable games were held throughout the day with the semi-finals resulting in play between Judith Gaskell and Vi Richards versus Graham Good and Elinor Dean on one lawn and Joan Langridge and Hilary Deadman against Jean Hargreaves and Carol Hampson on the other lawn.
The first ended with a win for Graham and Elinor 7 - 3, the second a win for Joan and Hilary on the Golden Hoop 7 - 6. Two well fought games with some excellent shots from all concerned.

The final was another well fought battle with Joan and Hilary taking an early lead 3 - 1 but Graham and Elinor fought back eventually winning 7 - 5.




"Busy" Club Night for AC 7th May
Only our top player thought it was worth the effort to practice.
Heaton Park 10th May, NW Federation Hcp Golf Tournament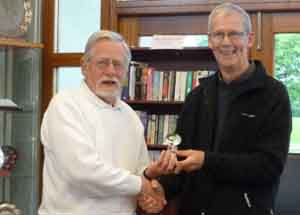 Manager Jean Hargreaves reports; It was a rather wet (with regular heavy showers) and, at times, a cold day on Saturday when 9 players from 5 clubs joined in the tournament.

The format was all play all with a total of 36 games during the day. By the early afternoon there were 4 players who could possible go on to win the tournament. However as the day progressed it was in the last round of games that the eventual winner emerged.

Brian Storey already had 7 wins and we were waiting for the outcome of Don Williamsonís last game against Graham Good.
In the end Don beat Graham on the Golden Hoop to give him 7 wins. As Don had beaten Brian in their match Don was declared the winner.
Congratulations Don, and to all the players for surviving the inclement weather and giving us a good day of croquet.

Photo of Don receiving trophy from Bury President, and co Tournament Manager, David Barrett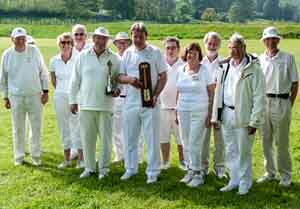 17/18th May, Tournament Roundup.
Over a weekend, where the country was bathed in bright strong sunshine, our members were playing in four different locations. Matt Holmes was back in action again, this time down in Nailsea for their Advanced Tournament. where he finished runner-up, with 5/7 and more points on his card.

Most of the membership went over to Scarborough

Member Graham Good went over to Nottingham Club to take part in this year's Peel Memorial (First played in back in 1898). The first time it's been held here for fourty years.

And up at Crake, it was the Federation's Hcp Tournament, Bury sent Graham Saunders & our chairman, Paul Kenworthy to defend our corner. Paul, who's been the stalwart of many a victorious team has never lifted a title in his own name in the eight years he's been playing - until today! Fittingly for a croquet final, the result was *plus one on time* over Garry Wilson (Pendle). Well Done Chair! Let's hope it's habit forming.


Southwick (Brighton) Croquet Club, May 24-27th, 2014 Inter-Counties.
Lancashire came 10th in Division One this year, so that means relegation out of top flight.

Paul Rigge was the only club member to make the trip down this year over the bank holiday weekend.

The only bright note over a wet & dull weekend was the reversal of last years result against Yorkshire, it was our *turn* to dole out a 3-0 win to them, and as a bonus, they finished below us in the Div One table which of course means that they will be joining us down in Division two next year to ensure that the enjoyable *roses* dinner remains on our calendar.

Photo Dave Openshaw(C), Liz Wilson, Ailsa Lines, Paul, Peter Wilson, Dave Nick.

30th May, Friendly Golf match at Flixton.
Bury took ten players to play this friendly match against Flixton who are a new Club where their 'organiser' wanted to give his players an insight to playing ' Golf croquet to League Standard ', as against just knocking a balls about.

The Flixton members were most receptive to the coaching we gave during play.

This was necessary as it was quite evident in the beginning that there was a wide gulf in the understanding of both technique and tactics for golf croquet.

As the day progressed however, a few of their better players managed to win the odd game, whilst some of our players remained undefeated throughout.

A Special Buffet had been laid on for us, as a thank you from the Flixton members , who have also requested we re-visit in 2015 when they hope to to demonstrate that they have benefited greatly from the coaching we all gave.

It was a very enjoyable day for all.
7th June, Longman Cup 1st round.
Bury lost 5-2 away to Bowdon in this year's national competition, closely fought but out in first round again.
The match was notable for a couple of items, Margaret's first serious full lawn game & Graham Good playing on a winning Longman team - theirs
Full results, Bury names first
Malcolm Daines(5)/Margaret Eccles(20) Lost to Barry Keen(3)/Graham Good(14) -18
Mac Hardman(14) Lost to Adam Swinton(6) -14
Graham Saunders(8) Beat Dave Holland(6) +23


Daines lost to Keen -3
Saunders beat Swinton +2
Hardman lost to Holland -6
Eccles lost to Good -3t
Pendle & Earby Croquet Club, 22nd June, Trans-Pennine Cup (Roses) Challenge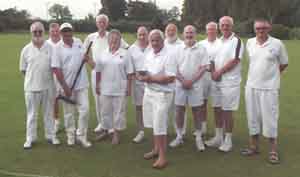 Lancashire squad lift the trophy, or they would have done if t'other lot had brought it back.

This match is the last remaining fixture from the old Confederation of Northern Clubs (under Mike Evans), and as such, is always played in great spirit and this year wasn't an exception - good fun was had in the fine dry sunny weather at Pendle.

The few players who had made themselves available to the Squad Manager (Paul Rigge), were rewarded by being turned out as as the *under-dogs*, being weaker card vs card (19 Vs 16.5), than the visitors from the East but under Tom's Captaincy they bagged the majority in the morning doubles to lead 2-1 at lunch (it could have so easily have been all 3).

The East's quickly leveled as the single results started to be recorded, so it came down to the captain's rubber to cross the line, with Tom pegging out just as time was called to give us our first win in five years.

The final victory was by the same margin as last year, 6-3, and for the first time ever in this friendly, all the games were played to advanced rules - well done to both teams and Pendle for again hosting.

Photo (L-R); Terry, Phil, Peter, Charles, Liz, Andy, Tom, Roger, Malcolm, Howard, Derek & Dennis.
Doubles
Tom Griffith(0) / Howard Bowron(5)
Liz Wilson(2.5) / Andy Brandwood(4)
Peter Wilson(2) / Terry Vernazza(6)
Singles
Tom Griffith (0)
Peter Wilson (2)
Liz Wilson (2.5)
Andy Brandwood (4)
Howard Bowron (5)
Terry Vernazza (6)



+20
+16
-5

+9
-7
+15
+4
-22
+7t



Charles Waterfield(1) / Dennis Scarr(3.5)
Phil Errington (1.5) / Roger Staples(3)
Derek Knight(1.5) / Malcolm Daines(5)

Charles Waterfield (1)
Phil Errington (1.5)
Derek Knight (1.5)
Roger Staples (3)
Dennis Scarr (3.5)
Malcolm Daines (5)

NW Federation Festival, Southport Croquet Club, 28/29th June.



Bury Squad sit this year's festival out.

Dispite fielding a team into each of the four disciplines played at this annual North West inter-club competition, We came away from this years empty-handed, not even getting a mention for any of the podium postions available in each event (did finish third overall - after a few recounts).

However, the two full days were supported, with reserves, and most enjoyed an evening meal out on Saturday.

Full Report & Pics



Heaton Park 5/6th July, Mid Summer Advanced Tournament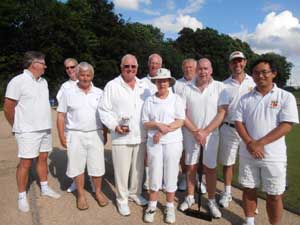 Hosted by Bury CC
Managed by Bury member Paul Rigge.

Advanced Summer Silver Trophy - Brian Storey.

This last advanced tournament at Heaton Park was almost a mini county affair with Middlesex, Cheshire & Lancashire all well represented. The bowling greens are still being badly damaged by rabbits but the courts were created to avoid the worst sand filled pits and transplanted areas.

Saturday morning broke gray & dull as all gathered, but before the first games had finished the sun had broke through and the clouds rolled back. This being the only tournament in the country played this weekend (again) to be bathed in sunshire for the duration.

The format was all play all in untimed games across two balanced blocks leading to a KO. Brian yet again remaining unbeaten and retaining the silverware for another year.


Nick Parish bt Tom Griffith +17
Dave Nick bt David Barrett +26
Brian Storey bt Derek Knight +14
Paul Rigge bt Francois Garcia +3
Andy Brandwood bt Eugene Chang +14
Nick Parish bt David Barrett +17tp
Paul Rigge bt Derek Knight +26tp
Brian Storey bt Eugene Chang +17
Dave Nick bt Andy Brandwood +11
Tom Griffith bt Francois Garcia +6

Paul Rigge bt Eugene Chang +24tp
Brian Storey bt Dave Nick +8tp
Tom Griffith bt Derek Knight +22
Nick Parish bt Andy Brandwood +14
David Barrett bt Francois Garcia +17
Dave Nick bt Tom Griffith +11
Nick Parish bt Paul Rigge +26tp
Derek Knight bt Andy Brandwood +25
Brian Storey bt Francois Garcia +14
Eugene Chang bt David Barrett +9

Paul Rigge bt Dave Nick +23
Brian Storey bt Nick Parish +3otp
Tom Griffith bt Eugene Chang +9
Derek Knight bt David Barrett +4
Andy Brandwood bt Francois Garcia +8
Brian Storey bt Paul Rigge +4
Dave Nick bt Nick Parish +24
Eugene Chang bt Derek Knight +8
Andy Brandwood bt Tom Griffith +1t

Heaton Park, July 12th, National 'B' Golf Competition.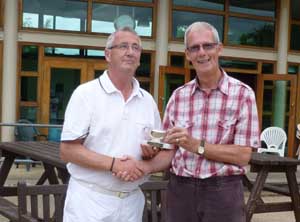 Hosted by Bury CC
Managed by Bury member Jean Hargeaves.

Winner - Ken Eccles.

Run with players split into blocks - all play all.

Following a late drop out 7 players enjoyed the beautiful sunshine at Heaton Park to battle it out for the Northern place in the National final. Play was keenly fought with several games going to the Golden Hoop.

The eventual winner with 5 out of 6 wins was Bury's own, Ken Eccles. Keeping it in the family Margaret Eccles came second by virtue of winning her last game. There was a tie on wins for third place but taking into account net points and then who beat who David Widdison took the honour.

This event was notable - for the first time, the court action was recorded from above by an aerial drone *driven* by Derek Hazelhurst. (hopefully, footage to be posted onto his YouTube)

19th July, Festival of Hope at Whitehead Park.
The Event was staged by All the Churches in Bury as a means of communicating with the general public and letting everyone enjoy a day in which they have an opportunity to share their hopes and pleasures of life with each other.

The Churches had done a tremendous job of organising various activities which included young Groups playing live 'rock & roll', 'jazz' and hip hop music, very loud on the specially erected stage.

A 'Steel Drum Band' played in another area where several tents had been erected for Face painting, etc etc . whilst Bury CC members played Croquet with 'all comers' on a roughly cut grass area near to the Pavilion.

The sad thing was that the weather was absolutely dreadful -- it lashed it down with heavy rain until mid afternoon. But just like on the Titanic the Bands played on and so did the Croquet players and many of visitors who were possibly trying croquet for the first time.

As all the food on offer at the Festival had been Donated, there was an un-relenting supply of Beefburgers and FREE FOOD on offer outside in the Tents, whilst inside our Pavilion Hundreds of cakes and drinks of tea were being provided Free of charge by The Churches.

Our willing batch of volunteers who attended the Festival worked very hard throughout the day and almost without exception every member of the public who came into the Pavilion responded warmly by signing our Partition to say that they Approved of the Re-Development of the Pavilion that they supported us in trying to obtain Grants for the work.

A separate list of names was also kept of all those people who wanted to be advised when the croquet season starts in 2015 as they may wish to join us as members.
Coronation Park 2nd August, Grass Roots Regional
Bury Club hosted the northern Region Heat of the National Grass Roots tournament.
Five players arrived on a wet day to play. (There should have been another from Broadwas but she didnít arrive).
The format was all play all, no time limit, 13 point games, and despite the weather and very wet lawns all games were completed.

The overall winner was Vi Richards (Bury), with a 3 way tie on wins for 2nd place, dropping to a 2 way tie on net points.
The eventual 2nd place went to Libby Dixon on a who beat who basis with Penny Clark coming 3rd. These two players were from Ben Rhydding.

All three now go forward to the Final at Ashby on Saturday 13th September. Good luck to them all.
Leonard (Len) Forkin, 8th August RIP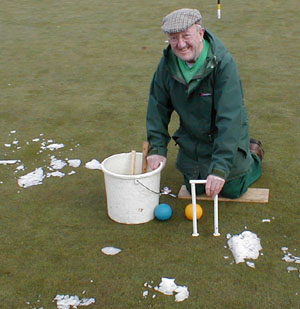 Heaton Park, August 9/10th, Summer Handicap Tournament.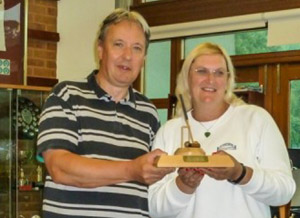 Hosted by Bury CC
Managed by Bury member Paul Rigge.

Winner - Alison Haywood-Hill.

Run with 13 players as an egyptian.

A tournament for two halves, weather wise and play wise (for our eventual winner).
Saturday was warm & dry, and play progressed as croquet weekends should; food, chat & play providing some winners & some losers - even Alison dropped her first game.
Sunday brought standing water on two courts from ex-hurricane Bertha, throwing the schedule into chaos - even the rain shelter tent got broken and collapsed in the wind (twice), incomplete games being moved onto other lawns to get a result.

By round five, four were still in contention. This year's winner taking the title with (4/5) and helpfully had beaten the only other player on 4/5 along the way, thus our own Margaret Eccles finished in second place.
Final Order;
AHH, M Eccles, E Rossiter, S Reynolds, K Jones, C Green, E Gallagher, K Anderton, G Saunders, B Keen, M Anderton, R Harvey, G Good.

Other Awards; CA Bronze Award to Alison Haywood-Hill, Handicap reductions to Eileen Rossiter(16) & Alison(18).

Coronation Park 12th August, Golf Fun Day
A really well supported event, with 34 people from 5 clubs (Bury, Culcheth, Bowdon, Fylde and Goostrey) enjoyed a good if intermittently wet day playing several fun Golf Croquet games. We welcomed several new players this year. Unfortunately the players from Westmorland had to withdraw at the last minute.
The day was thoroughly enjoyed by all with the following being the eventual winners.

Joker - Pauline Standbridge (Bury) and CYD Harbuttle (Fylde)
Bonus - Bob Connop and Catherine Poole (both Culcheth)
10 minute - Alison Charters (Culcheth)
Double Evens - David Barrett (Bury) after a sudden death play-off
Mini-Max - Bob Connop (Culcheth) after a sudden death play-off
Crazy Croquet - Walter Busuttil (Bury)
Clock Golf - Jean Oldfield (Bury)


A VERY big thank you to Margaret Anderton who volunteered to manage all the catering for the day with a little help from a couple of Bury members and thank you to all Bury members who contributed in any way.
Edgbaston B Class, 24th/25th August
Andy Brandwood Wins the Sally Nichols Trophy.
Ian Slater reports;
Andy's final game narrowly missed earning his Gold Award. His attempted TP gradually reduced to a straight double. A fine penult peel arrived four feet short of rover but the subsequent rush was sadly not so good and the tricky rover peel failed.

The three-way tie by Clive, Adrian and Andy each on 4/5 games had to be determined by net hoops, leaving Andy a clear winner. Tony Whateley nearly beat Clive in his last-to-finish final game which would have left Adrian holding the trophy on who-beats-whom. Such are the vagaries of tie-breaking.

Andy's handicap has reduced to 3.
Pendle, All-England AC Hcp Area Final, 30/31st August
Gary Wilson managed his first event and decreed that our own Graham Good (back up to Hcp14) waltzed it with 5/5, so goes forward to the National Final in Colchester (13/14th Sept).

Alan Morton (Fylde) takes the second NW slot in the finals.
Pendle, Spencer Ell, 5th-9th September 2014.
Bury's Matt Holmes, Wins the third CA's 'Eight' upon his first invitation at this level.

Having won the Treasurar's Tankard last year and the Selectors in '12, he is now the first player ever, to have won each of these Eights in consecutive years, gaining promotion into the next *division* as he did so.

It's also worth noting that he beat Paul Rigge (who was also picked for this Ell) for the first time under Super Advanced Rules - but taking five hours to accomplish his win against him with a very solid 'trap line' strategy, a real tactical thoughtful game with some very good shooting - Matt's comment after the game; "you're like a limpet, I can't shake you off".

What's next for him? We'll have to wait and see if he gains promotion next year into the Chairmans Eight but at least we can award him BCC's man of the year again!

Full details; CA's Site
Paul, who after last year's thrashing in this event, was a questionable inclusion for this year, proved his selection was justified, by finishing in a solid fifth place.
Matt with this win has now widened the gap in the ranking database between him and Paul to thirty odd places now.


Photo; Dave Kibble, Ian Lines, Paul Rigge, Matt Holmes (holding), Dave Nick, Mark Ormerod, Martin Murray, Jaimie Mussi.


10th September, Bury Club Win the Handicap & Golf Leagues.
Ken E reports; Congratulations to Bury East level play golf team for winning the league for the second time in succession.

Ken & Margaret Eccles and David Barrett travelled the short distance to Fylde to play the last match of the season, we needed a win or draw to take the title.
We started off winning the first 2 games, but Fylde came back taking the next three, by lunch we were trailing 5-4. a quiet word in the team's ear and a couple of press ups later we fought back to draw the game 9-9 which was enough to take the title.

Thanks to all team members for another great season..

In the Handicap League, Bury Peelers have been so dominant, they have taken the title with two games in hand.
Colchester, All-England AC Hcp Final, 13/14th September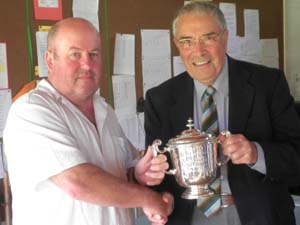 Graham Good playing off Hcp 12 forced his way into a play off before winning the title with 4/5 over the two days. The winner being decided by shooting four balls for hoop three from the north boundary (1 pt for a wire, 2 for a jaws and 3 for a hoop run) - Graham managed to score the highest (8) using this play-off method so took this National Title.

In his third game he also gained his CA Silver Merit Badge

CA President, Quiller Barrett presented the Trophy










Ashby, Grass Roots & Centre Stage Finals, 13/14th September
Vi Richards was due to play in GR final, but (rightly) Pete took priority.

Margaret Eccles made an appearance in the CS finals - no idea why or how she got there, but she came 4th.
September 19th/21st, Tournament Roundup.
Matt Holmes entered the Southern Championship down in Eastbourne for his last outing this season. He got past the first round but came up against the eventual Champion in the next so more experimentation with his game in the consolation swiss plate - Matt finished with 4/10 after dropping a sextuple & tpo but completing two quads.

Malcolm Daines appeared again at the Bowdon B advanced with a similar 1st round exit to last year. Counting total games in the Egyptian, he finished 2/5 but only 5 points down on the weekend, such was the quality he played against..

Graham Good went playing Golf up at Pendle in the All England Handicap Final and yes has collected another title. Such was his victory margin this time, he won the event with three rounds still outstanding.
Without dropping a game in the fifteen all-play-all two day final he becomes the first player to hold both National Handicap Titles in both disciplines in the same year.
Also with his victory, he earned a handicap reduction from 6 to 4 (at Golf of course).

CA Vice-President, Colin Irwin, presented him with the Rose Bowl Trophy and thanked the Gazette Editior Chris Roberts & Frances Colman for both Managing the Final.
Coronation Park 21st September, Club Internal Finals Day - well it should have been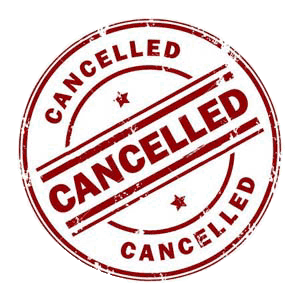 Paul Kenworthy writes; It is with regret that I cannot see any reason to hold the finals day this year, Matt is unable to attend so the Advanced final has already been played as has the Handicap final, since Graham Saunders soon departs for a warmer climate again. The Golf Open final involves Graham Good who will be away at another tournament.

High Handicap Golf is between Vi and Maureen can will be played soon so that only leaves the Short and Level Play Golf to be resolved.

Consideration was given to having a get together anyway but the final nail in the coffin is that Mac and Sue are unable to attend so no Tatty Pie !!

Please continue to play the outstanding matches when you are able before the end of the season and we can then award the trophies at the November General meeting to the recipients.
Commentary on finals;

In the AC Advanced Final Matt & Paul played BO3 on the *big* No2 court. Paul won the toss but lost the opening in the first game, which was highly interactive. With Matt on penualt & Peg, Riggey pounced and had Matt's peg ball off. Three turns later, Paul was one game up..
Game two was pure 'A' class. Matt round to 4b with a perfect NSL. Paul hit the lift, & trippled Matt off. Long game of hide n seek during which Matt only advanced from h1 to h4. Paul got the three ball break going to win title again +10tpo.

For the third year running Graham Saunders & Tony Phillips were the Finalists at AC Handicap, Graham taking title - well it was his turn again, so he started & finished this season with a win..

In the short, it was only fitting that after a season of re-gaining her form Margaret(Hcp3.5) got to win at least this title with some great shooting to snatch the innings time after time.

New this year, Level Bo3 Golf. So it was fitting that the two highest ranked players at the club rattled through the field to the final. Paul (UK 22) Vs David (UK 71). Paul won the title 2-0 with time to spare or rather David slightly underperformed and made it easy for him, missing mid-distance clearances and failing three jumps over the two games, that being the differance.
Full Details
AC 26pt Advanced
AC 26pt Hcp
AC 14pt Hcp

Golf 13pt Level
Golf 13pt Hcp
Golf 13pt High Hcp

WINNER
Paul Rigge +2, +10tpo
Graham Saunders +11
Margaret Anderton

Paul Rigge 7-3, 7-4, 7-3



FINALIST
Matt Holmes
Tony Phillips
Dave Barrett

Dave Barrett
Graham Good Vs ??
Vi Ricahrds Vs Maureen Whittle .
Nottingham, 12th October


Graham Good must be the player this season to hoist the most national silverware aloft, having played (& won) today in the final of the Secretary's Shield. As it happens, Oxford didn't turn up with a full squad so this win ended up being just a formality for Bowdon Club to collect the title - Yes, Graham was playing again for them.

So to recap; he's collected Longman Cup & Secretary's Shield for Bowdon and both National Handicap Titles (AC & GC) in his own right.

He finishes this season, having shown vast improvment in his game at both disciplines, carding AC(9) & GC(4).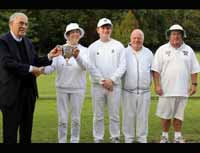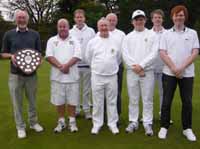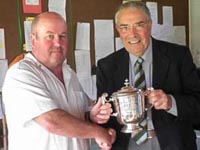 Season Dinner and Trophy Presentation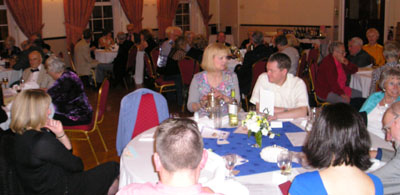 Our second year at The Grand Masonic Lodge - and yet again it proved to be just the perfect venue for our annual presentational dinner - simply wonderfull evening again with good food and attentive service.

Dinner had our members and friends from other clubs attending, Culcheth & Fylde were both well represented as Chairman Paul Kenworthy listed all the club's various winners over the last twelve months.

Matt Holmes (below centre) again featured heavily. He might only have brought one trophy this year to display, but what a trophy - only the CA's Spencer Ell Cup, it got closely inspected on my table at least.


Closed season - November 15th, Culcheth
BURY TEAM ARE WINNERS AT CULCHETH QUIZ NIGHT
Barbara Young reports; Eight Bury members attended Culcheth's Quiz Night.
Ken and Margaret Eccles, Vi and Pete, Sue Sandiford, Joan Langridge and Geoff and myself formed 'Team Bury',
We had a most enjoyable evening made even better by the fact that we won the quiz even if it was only by 1 point!
The social events at Whitehead Park on Monday evening and Tuesday afternoon are going well. We would encourage more people to join us to play mini-croquet, snooker, various card games, darts etc.