Coronation Park
New Road
Radcliffe
M26 1LS
January 15th, Pilsworth - Ten Pin Bowling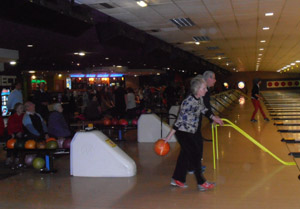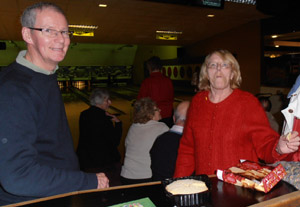 As the temperature dropped below zero outside and snow fell for the first time this winter, Bury club returned once again to the bowling lanes at Pilsworth.
This popular winter activity attracted 16 members this year bowling over 3 lanes again.
Some made full use of the gutter gaurds on every delivery while others measured success by avoiding the rails altogether!
In common with previous years some selected to make deliveries by utilizing ball guides while others adopted a more standard action - with varying degrees of success
This year, birthday girl Pam supplied Brithday Cake, well Birthday shortbread, well actually Birthday Xmas leftovers - Didn't matter it all went down with gusto.
As is usual, all had three games, and this produced another new winner. The 2013 title going to Matt Holmes, with Ken again the bridesmaid. Last year's winner Paul K taking the Bronze slot.
The Wooden spoon this year, for the first time, was Gill.
Full finishing order; Matt, Ken, Paul, Riggey, Pam, Geoff, Derek, Sue, Barbara, Joan, Margaret, Jean, Hilary/David, Gordon, Gill - well done all.
Thanks due to Geoff & Barbara for sourcing venue again.
February 5th, Whitefield - About Tea Time...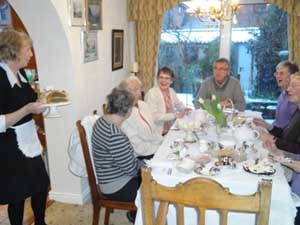 Raising money for Bury Hospice was the reason that members braved yet more snow to be greeted at Jean's house by the uniformed *staff* (other members).
Suitably seated the 'Nippies' then proceeded to serve high tea in the finest style and tradition of any Lyons Corner Shop or Kardomah although the chocolate eclairs seamed smaller
Nobody that attended needed dinner that night, such was the amount of food available.
Thanks due to Jean & Gordon for lying on a new venue.
Oh, and after such a brisk trade, £85 was handed over to Michelle from the Hospice
Stop Press ....March 6th....Stop Press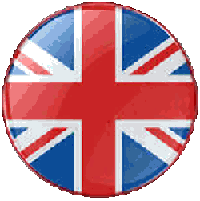 Matt's success in last year's Invitational Eights (Selectors) has brought him to the attention of the Secretary-General of the World Croquet Federation as well as the Chairman of the Croquet Association's AC Selection Committee.
Matt has been invited to join the AC International Player Development Squad 2013/2014, whose intention it is to develop players with the ability and desire to play for Great Britain in the 2017 AC World Team Championships (MacRobertson Shield).
Starting this season the Squad will receive sessions encompassing individual goal setting and motivation, mentoring, tactical discussions as well as on-lawn coaching, all geared to enable Matt to break into the National Team by the start of the 2015;
Bury with an MacRob Player? Here's hoping!
Pendle & Craven, 29th March -1st April, John Beech Easter Tournament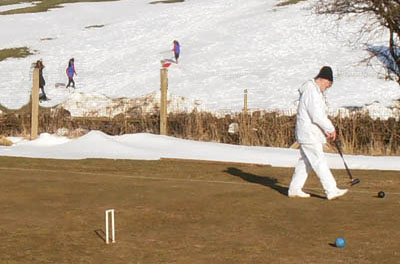 Bury member Paul Rigge regains the JB Easter title for the first time in a decade and also achieves a reduction in handicap to -1 (also shares most games played award with Matt Holmes & Betty Bates of Fylde)

It's not very often that Croquet shares a venue with winter activities but with children enjoying the Bank Holiday sledging on the slope at the back, we played Croquet in the bright sunshine at Earby.

The weather stayed as forecast, dry and bright but with a bitterly cold easterly wind blowing, only the in-player went outside to brave it. Easter Sunday was the coldest on record with overnight temperatures hitting -7C.

Playing a mixture of advanced & handicap games, Paul only dropped a single game on his way to the title over the four days of competition, overcoming anything up to 20.5 Bisques multiple times.

Over the four days, various players floated into contention only to fall back into the pack. Last year's winner and club mate, Andy Brandwood had a good campaign and finished in third place behind Joe Lennon (Glasgow).
Coronation Park, April 6th, Lancashire Golf 'B' Level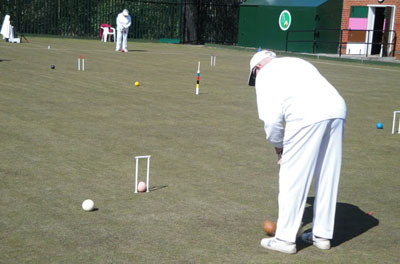 This year's Lancashire Open attracted so many entries that Heaton Park couldn't accommodate them all, so an *overspill* level play single day tournament was organised onto our own courts to enable the entrants who missed the cut to earn ranking points and then still go and watch the Finals at Heaton Park on the Sunday.

A full day's play from 9am was managed by Tournament Manager, Referee & Winner, Barry Keen.

The eight players who had fun at our sunny secluded spot were; Adrian Simmerson, Bob Connop, Joan Langridge, Ros Pimlott, Barry Keen, Anne Connop, Dennis Crossland & Graham Good.
Susan and Mac Hardman supplied the Lunch
After an all play all single block of eight plus another selected round to sort out the 3-way tie. The final was Barry Vs Adrian
Heaton Park, 13th Lancashire International Open Golf Championship, 6th/7th April.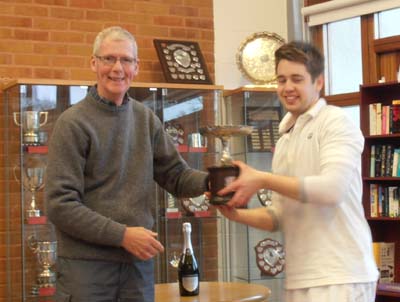 Another great very early season curtain raiser as 18 contenders met under clear blue skys with bright spring sunshine.

After a thrilling best of three game final, with it poised one game all and six hoops all, Nick Cheyne is the new name on the trophy, for it was he who held is nerve running the final golden hoop to snatch the title away from Tim King - who had been getting stonger the deeper he went into the tournament. This year's Open showed just how far Golf Croquet has developed, since only a single association player made it as far as the semis before falling by the wayside.

During the weekend it was also announced who would be going out to Eygpt as our counties team - Most of the Golf only players attending had been selected, further demonstrating the strength of the competition present.

Bury member,Paul Rigge played well in the block stages but got knocked out in the quarters, as did three time winner Ian Lines and last years beaten finalist, Paddy Chapman so he was in good company!
Hosted by Bury CC
Mangaged by Dr Tim King & Freda Vitty.
Bury Club President Dave Barrett presented the Trophys,

The consolation single event was won by Debbie Cornelius.
Nicholas CHEYNE(0)
Nick 7-4 7-5
Nick
5-7 7-5 7-4

Nick
7-3 6-7 7-6

Robert DODDS(1)
Lionel TIBBLE(0)
Lionel 7-3 7-6
Paul RIGGE(0)
Paddy CHAPMAN(0)
Tim 7-6 7-5
Tim 7-6 7-5
Tim KING(0)
Howard CHEYNE(0)
Howard 7-3 7-5
Ian LINES(0)
Blocks; www.croquetscores.com
Club Open Day - in aid of Bury Hospice April 13th 2013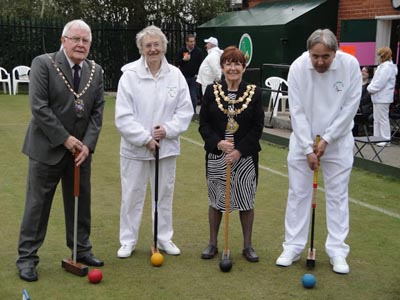 This year's fundraiser was Opened by our patron's, HRH The Queen's, representative Bury Metropolitan Borough Mayor, Councillor Joan Grimshaw and her consort, Paul.

With the weather being overcast, wet weather gear was the order of the day, so thanks must go to to the Mayor who only had her chain to keep the elements at bay.

The damp must have kept some numbers away too, since the total sum raised this year was only £427, still, an enjoyable afternoon was had by the few who did turn out.

Thanks to all of the public who attended and showed so much interest. We hope to see you back soon.

Julian Thrope reporter from the Bolton News Group attended Bury CC Open Day and this is his Report...
Heaton Park 20/21st April, Neil Williams NW Federation Advanced Tournament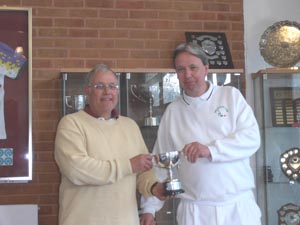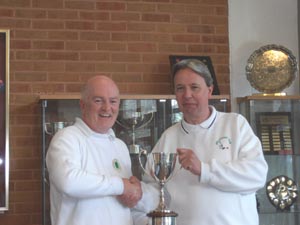 Proudly Hosted by BCC
Managed by Bury member Paul Rigge.


Bury Club Chairman
Paul Kenworthy presented the Trophys,

Neil Williams Millennium Cup - David Walters.
Woodlands Trophy - Robert Essler.
Tournament back to a maximum with sixteen players being sent this year by their clubs to compete for the Federation's Premier advanced tournament of the year.
With great weather forecast for the weekend both the Cup & the Trophy were contested in two blocks, all play all.
David Walters again was displaying total dominance in the top event, retaining his title for the second year and Robert Essler winning the Trophy for the first time.
| | | | | | | | | | | | |
| --- | --- | --- | --- | --- | --- | --- | --- | --- | --- | --- | --- |
| Cup | AW | DW | PR | BS | JH | ML | AH | RL | | Wins | Losses |
| Andrew Winn | | -9t | +6 | -21 | -2 | +24 | +5 | +1t | | 4 | 3 |
| David Walters | +9t | | +4tpo | +26tp | +13tp | +2 | +16 | +25 | | 7 | 0 |
| Paul Rigge | -6 | -4tpo | | +3 | +16 | -3t | +8 | +5t | | 4 | 3 |
| Brian Storey | +21 | -26tp | -3 | | -16 | +18 | +19tp | -5 | | 3 | 4 |
| James Hawkins | +2 | -13tp | -16 | +16 | | +15 | -19 | +8 | | 4 | 3 |
| Mark Lloyd | -24 | -2 | +3t | -18 | -15 | | -5t | +10 | | 2 | 5 |
| AlJonen Hascock* | -5 | -16 | -8 | -19tp | +19 | +5t | | | | 2 | 4 |
| Ray Lowe | -1t | -25 | -5t | +5 | -8 | -10 | | | | 1 | 5 |
* AlJonen Hascock; Prof Alan Pidcock or John Haslam - who split the workload.
| | | | | | | | | | | | |
| --- | --- | --- | --- | --- | --- | --- | --- | --- | --- | --- | --- |
| Trophy | RS | TG | RE | PK | BY | TV | JD | AB | | Wins | Losses |
| Roger Schofield | | -15 | -23 | +19 | +19 | +9 | +8 | -11t | | 4 | 3 |
| Tom Griffith | +15 | | +7 | +22 | +21 | +26 | +11 | -1w/o | | 6 | 1 |
| Robert Essler | +23 | -7 | | +21 | +2t | +23 | +25 | +1t | | 6 | 1 |
| Paul Kenworthy | -19 | -22 | -21 | | +21 | +8 | +15 | -6t | | 3 | 4 |
| Barbara Young | -19 | -21 | -2t | -21 | | | +20 | +11 | | 2 | 4 |
| Terry Vernazza | -9 | -26 | -23 | -8 | | | +15 | -7 | | 1 | 5 |
| John Dawson | -8 | -11 | -25 | -15 | -20 | -15 | | +2 | | 1 | 6 |
| Andy Brandwood | +11t | +1w/o | -1t | +6t | -11 | +7 | -2 | | | 4 | 3 |
Southport Charity One Ball Croquet supports Prostate Cancer UK April 28th 2013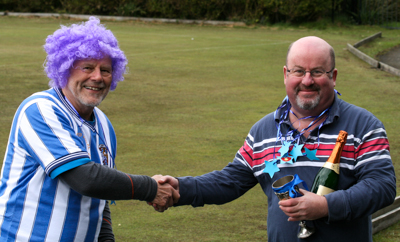 Southport Croquet Club held a charity One Ball event on Sunday afternoon in aid of Prostate Cancer research.

Competitors were asked to wear blue and, in spite of driving rain stinging across the lawns, 22 stalwart members turned out to face the elements and had a surprisingly good time.

There were a good many prizes for things such as fastest game, shot of the day and highest scoring game. Our own Graham Good, was overall winner and Southport's Peter Bundred was Runner up.

But probably the greatest prize was the cup of tea that warmed chilled hands at the end. With Gift Aid the total raised was £270 for the charity.

Graham, seen here being presented by Event Manager Tony Thomas.
Heaton Park, May 4th, NW Federation Handicap Golf Singles.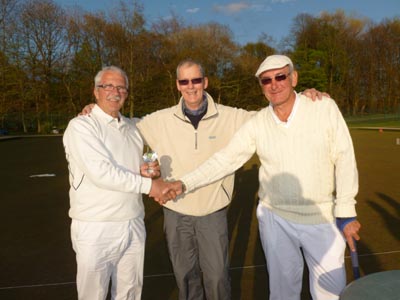 Jean Hargreaves reports; 16 players from 7 clubs entered the tournament.

The event was played in two blocks of 8 players each.

The day started rather grey and cloudy, not very warm and with a hint of rain. It brightened up as the day went on. Pat Clare (Chester) won 6 of her games taking first place in her block. Second place was between Peter Fey (Chester) and Don Williamson (Southport) and as Peter had beaten Don he went forward into the semi-finals.

The other block had Neil Thompson (Bowdon) as winner with 5 out of 7 wins.
Three tied for second place with 4 wins each but using who beat whom the second place went to Brian Poynton (Culcheth).

Brian beat Pat on the Golden Hoop in the semi-final and Peter beat Neil 7-5 in the other.

A thrilling final followed with the score 5 all on time. After a well fought hoop 11, this year's winner took the Federation title by 6-5.

Congratulations to Brian Poynton (Culcheth).

Photo; Brian, Dave Barrett(Manager) & Peter Fey (Chester).

Thank you to all who took part.
Coronation Park, May 7th, Club Golf Doubles.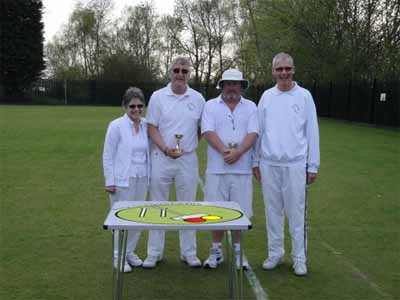 23 players arrived in brilliant sunshine to play in this club event and were lucky enough to be bathed in glorious sunshine all day.

We played Progressive Doubles with a high handicap player being partnered with a lower handicap/more experienced player.

We had eight rounds (48 games in total) ending again with Mr & Mrs Eccles contesting the semi-finals, this year Ken Eccles partnering Graham Good against Susan Hardman and Gordon Kay in one and David Dean partnering Gill Feeley against Margaret Eccles and Hilary Deadman in the second.

Ken and Graham went through to the final against David and Gill. A well fought game ensued with Ken and Graham eventually winning, after time, 6-4.

Congratulations to Ken and Graham.

Photo; Jean Hargreaves, Ken Eccles and Graham Good, Dave Barrett.





Charity One-Ball Tournament Final Results for Prostate Cancer UK May 12th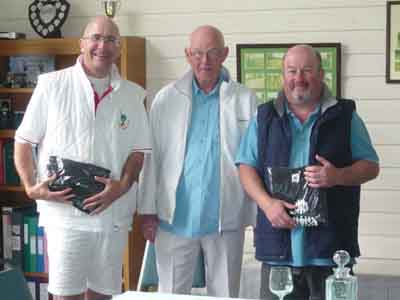 This year's Charity One-ball tournament saw two regional finals held: the usual Southern final at Winchester and a new Northern final at Bowdon.
The pedigree of the winners of each could not be more different. Libby Howard-Blood (Nailsea), playing off 22 in her first tournament won at Winchester, while Colin Irwin, ex-GB international and playing off -5, won at Bowdon!

In the morning's dry weather at the inaugural Northern Regional Final, John Lucas (Bowdon) was the leader, unbeaten after four rounds with Tim King (Ashby), Colin & Neil Thompson (Bowdon) close on his tail. The rain of the afternoon's session soon changed the speed of the lawns and, after six rounds, the two clear leaders were Colin and Neil who then effectively played a final to determine the overall winner and runner-up. Tim King and our own Graham Good (Bury) tied for third place.

364 players took part in heats prior to the finals and a little over £3000 was raised for this year's chosen charity, Prostate Cancer UK.

There was a tie for third place between Tim King & Graham Good, both getting Prostate Cancer UK sponsored T-shirts from Alan Mayne.


15th May, Mary Rose Inter-Club Trophy 1st round.
Bury travelled again to Chester this year, bizarre? since it was *our* home fixture, but we had to go to them because Chester refused to play at our venue of Heaton Park.

The heavy flooded slopping lawns greeted our team and despite the fact that no one could hit a ball across a width let alone a length, *play* started. Well I say *play*, when I should say Blue/Black moved about together with Red/Yellow moving about somewhere else and every now and again a hoop was found to run.

Team result - losing by 5-2.
Bury 0-3 down at lunch, and then continued the struggle, but to no avail.
Full results, Bury names first
David Barrett(1)/Tony Phillips(3.5) lost to Jerry Guest(1.5) & Mark Lloyd(0.5) -22
Barbara Young(5) lost to Dennis Graham(4.5) -1t
Ken Anderton(4.5) lost to David Guyton(7) -1t


Barrett lost to Lloyd - 23
Phillips lost to Guest - 14
Young beat Guyton + 15
Anderton beat Graham + 2t
May 18/19th, Cheltenham Advanced Weekend.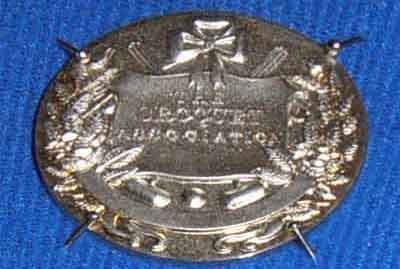 Matt Holmes qualified for his CA Silver Medal at this event - Brilliant.

By gaining this award he makes Bury club the strongest club in our Federation - the only club with Two Silver Medalists currently active.

Silver Medal in the club's Silver Year - how appropriate.


Southwick (Brighton) Croquet Club, May 25-28th, 2013 Inter-Counties.
Lancashire remain in division one (even though we were rubbish, our rubbish was still good enough).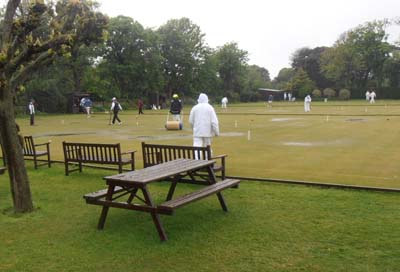 Bury members Matt Holmes & Paul Rigge again turned out for our county over the bank holiday weekend.

On paper this year's campaign down on the south coast should have been a strong one, but game after game went against us - time & again chances were dropped or missed by the full squad, so as is usual for your county side, our fate depended upon others to fail even worse than we did - and they duly obliged us, so by the last day we were deemed to be in seventh place and safe.

During the weekend, Yorkshire duffed us up, being back in the top flight for the first time in five years, but took the sting out of the loss by buying the wine over our joint *Roses* Dinner which followed that match.

We did however beat our other neighbours, Cheshire, the following day so we couldn't have drunk that much, or maybe the Yorkshire team were too tight to supply us with enough booze to affect our play.
Photo Southwich on Tuesday - note the standing water.
Heaton Park, June 2nd, Charity Tour Golf Match.
Ian Burridge, arrived at Heaton Park with his son, Euan, on their National tour of *Eight's Clubs* - clubs that have hosted a CA Selection 8 event. Their tour raising funds in aid of Leukaemia and Lymphoma research.
No single player has ever played at all 21 previous host venues before, but Ian & Euan intend to tick them all off within Five Days! The full list being; Hunstanton, Colchester, Hurlingham, Roehampton, Surbiton, Ramsgate Compton, Southwick, Jersey, Hamptworth, Ryde, Parkstone, Budleigh, Sidmouth, Nailsea, Cheltenham, Bowdon, Heaton Park, Southport, Pendle & Craven and lastly Nottingham.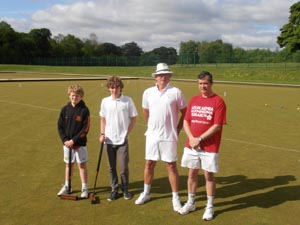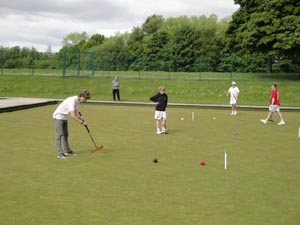 For the record, Paul Rigge (0) played Ian (0) and Harry Anderton (10) played Euan (10), with both Bury Club members winning their games against the visitors but the real winner on the day was of course the LLR charity with the tour so far raising a sum in excess of £4800.

If you did not put your name on the list of Bury sponsors it is not too late to support this excellent cause, just see Derek or to donate on www.justgiving.com/croquettour


Photo(L) Euan, Harry, Paul & Ian.
Coronation Park, June 8th, AC Club Fun Doubles.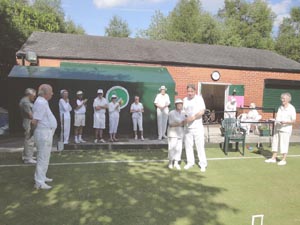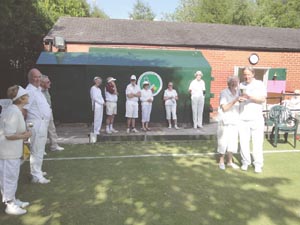 Bright sunshine with blue sky all day, good company, loads of croquet played in a great spirit - does it get any better than this?

An ideal number of participants, 8 each of high and low handicap players. After 5 rounds of alternate shot doubles with different pairings there was a tie on 4 wins each in both low and high handicap groups.
On a count up of hoops the high handicap winner was Colleen Forkin with Margaret Eccles as runner-up. The low handicap winner was Barbara Young (honestly not a fix as she was manager!) with Mac Hardman as runner-up.

Photo Colleen & Paul. The silverware was presented by club Chairman Paul Kenworthy. Photo Barbara & Paul.
Centre Stage National, Club Qualifier, Heaton Park, June 15th
Ken Eccles won all his matches in the initial stages and played Jean Oldfield in one semi-final, result 7-4 to Ken.

Brian Poynton (Culcheth) played Margaret Eccles in the other semi, result 7-6 to Margaret.

So it was husband v wife in the final which was hard fought but with Margaret the eventual winner 7-4.

In the play-offs Brian beat Jean also 7-4.

Well done to all and good luck in the final rounds.
Pendle's Advanced Weekend, June 15/16th
Matt Holmes & Paul Rigge entered this weekend tournament along with players from all over the NW & NE.
The rain stayed away apart from a quick shower early Saturday morning.
The lawns are still recovering from last year's *wet season* and the hoops were set firm and tight, so it was *challenging* to say the least.


Paul didn't drop a game in either the KO or the Egyptian so lifted both the David Openshaw Claret Jug for the second time and the Chris Clark Bowl for the first, but it's worth noting that some of his games *did* drag on - the last ball being hit on Saturday night at 22:10 before pegging down the game to recommence Sunday for 22mins. (so didn't win the 'fastest game' award).

Paul 8/9, Matt managed 4/8


Hunstanton over 50's Handicap Weekend, June 14/16th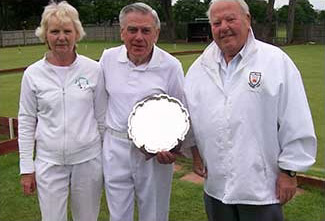 Ken Anderton lifted the Title, 2nd place? Wife Margaret, Chairman Terry Kendal presents.

Entries from 11 clubs including one visitor from New Zealand. Played on the superbly prepared lawns at Hunstanton, play at first proved difficult due to the tight setting of the hoops. However, as time progressed the players gradually mastered the difficult conditions and the length of the games became gradually shorter in length.
The weather on the first day was pleasantly sunny marred by a slight chill to the wind. However, the second day proved distinctly unpleasant with strong winds and heavy showers that on occasions stopped play causing the players to seek shelter were they could from the elements. The third day proved to be a magnificent summer day with the wind dropping and the temperature rising, that saw fleeces and jumpers abandoned in favour of short sleeves.
From the start of play the pace was set by Jonathan Toye from the Downham Market Club who powered ahead in unbeatable form winning all of his games in the first two days to what appeared to be an unassailable lead. However, on the third day Jonathan lost his way succumbing to the steady play of our own Ken Anderton. At the start of the final round the winner would be one of three players. Ken and Margaret Anderton and Jonathan - provided he won his final game. However, this was not to be as Ken in his usual steady way saw off his opponent to run out the undisputed winner with his wife Margaret the runner up and Margaret Hampson of Surbiton in third place and Jonathan coming in fourth. Even though the weather proved variable for the time of the year the tournament was played in a very good spirit and the excellent meals provided by club members proved to be conducive to an enjoyable atmosphere throughout.
Pendle & Earby Croquet Club, 23rd June, Trans-Pennine Cup (Roses) Challenge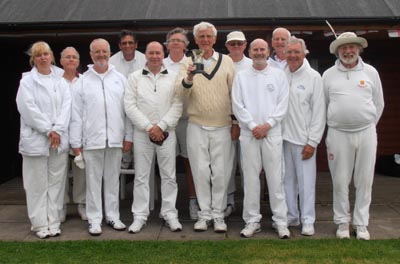 Failure for the Lancashire squad at Pendle again!!.

Member Paul Rigge, as Manager and this year, Captain of the NW Federation team, took control and led this year's squad out at Pendle (after setting the hoops in the only rain we had all day).

This match is the last remaining fixture from the old Confederation of Northern Clubs (under Mike Evans), and as such, is always played in great spirit and this year wasn't an exception - good fun was had.

The North East team, lead by Charles Waterfield carried the day 6-3 and retained the trophy for the fourth successive time, dispite Lancashire being marginally stronger on paper.

By lunch we were 1-2 down after the 3hr morning doubles, and Pendle's fayre failed to reverse our fortunes in the single matches after the break

Worth noting this year - for the first time ever, nearly all the games were played (bar one) under advanced rules and only Bury members won games.

Photo (L-R)

NW Fed; Betty Bates(10), Rob Essler(1.5), Terry Vernazza(5), Peter Wilson(1.5), Andy Branwood(6) & Paul Rigge (-1)
NE Fed; Charles Waterfield(.5), Dennis Scarr(6), Malcolm Daines(6), Derek Knight(3), Derek Watts(2) & David Turner (7)
NW Federation Festival, Southport Croquet Club, 29/30th June.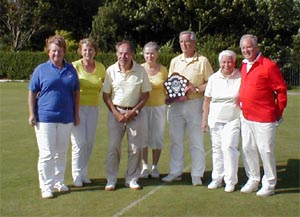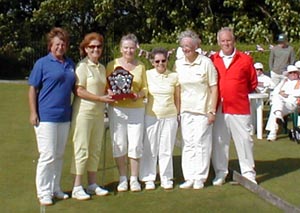 Bury Squad Collect two Federation Shields.

Declared Golf & Short Champions for 2013.

As usual, Bury fielded full teams to contest all four disciplines and Jill, Gordon, Margaret, Ken & Joan beat nine other clubs to the Golf title.

Vi, Margaret, Jean & Barbara beat six other teams to claim the Short AC crown.

Also, Bury members augmented at least three other clubs who were themselves stuggling to raise teams.

Photos: Federation Chair - Liz Wilson (Blue) with Event Manager Keith Roberts (Red) presented Winner's Shields to our teams.

Full Report & Pics

Pendle and Craven CC, Midweek Tournament, July 2-5, 2013.
Bury member Graham Good does Quintuple his way - Three trophies, Bronze Badge and Hcp reduction, all at the same event.

He collected the The Pennine Trophy for winning the D class,
The Irish Cup for winning the Egyptian Handicap and for Producing the fastest win all week - The Egyptian Cup!

Additionally, In one game he qualified for the CA Bronze Award and over the week his play earned a Handicap reduction to 16. (Ed; not a bad week, really.)

Always the bridemaid, Margaret Anderton also gained herself a Hcp reduction - to 11 and as runner-up to Graham in the Egyptian, collected the David Hoyle Trophy .
6th July, Longman Cup 1st round.
Bury "entertained" Southport at Coronation Park in our first (and only) game in this year's national competition.
The visitors knocking us out by the narrowest of margins, 3-4 in a very bad tempered affair, Lunch was only taken by seven players with one refusing to *socialize* after the mornings upset.
Full results, Bury names first
Mac Hardman(14)/Graham Saunders(9) beat Carol Lewis(3)/Eileen Rossiter(20)
Andy Brandwood(6) lost Eileen Gallagher(9)
Graham Good(16) lost to Diana Williamson(11)


Brandwood beat Lewis
Saunders lost to Gallagher
Hardman lost to Williamson
Good beat Rossiter
Next year?......sigh..
Heaton Park 6/7th July, Mid Summer Advanced Tournament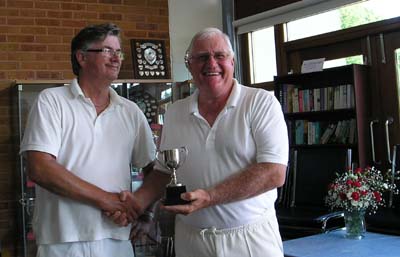 Hosted by Bury CC
Managed by Bury member Paul Rigge.

Advanced Summer Silver Trophy - Brian Storey.

Summer arrived last Thursday, warm & dry, but by the time we got to this tournament - super heat and the after burners had also turned up too - get the idea? It was Hot (and very dry).

The courts were fast, so fast in fact that hoop approaches from any distance proved to risky with many under/over approaches and any attempts at bullying the firm hoop always got rejected - brilliant conditions.

The cream rose to the top in this Egyptian and Brian was totally unbeaten, rock solid, still riding the form he found winning Crake last month.


David Walters beat John Lucas +20
David Barrett beat Malcolm Daines +11
Jerry Guest beat Dave Nick +3
Matt Holmes beat Derek Knight +10
Brian Storey beat Tom Griffith +12
David Walters beat Matt Holmes +6oqp
Derek Knight beat John Lucas +4
Brian Storey beat Jerry Guest +23
Tom Griffith beat Dave Nick +12

Brian Storey beat David Barrett +4
Paul Rigge beat Malcolm Daines +10
Dave Nick beat Matt Holmes +5
David Walters beat Tom Griffith +7
Jerry Guest beat Derek Knight +15
David Barrett beat John Lucas +19
Paul Rigge beat Derek Knight +12
Brian Storey beat David Walters +22
John Lucas beat Malcolm Daines +15

Dave Nick beat David Barrett +24tp
Tom Griffith beat Jerry Guest +11
Derek Knight beat David Barrett +19
Paul Rigge beat Dave Nick +6
Jerry Guest beat David Barrett +24
David Walters beat Dave Nick +11
Derek Knight beat Tom Griffith +21
Brian Storey beat Paul Rigge +15
Derek Knight beat Malcolm Daines +24
Tom Griffith beat David Barrett +25
Northern Week, Bowdon, 13/18th July.
Members Graham Saunders and Richard Harvey went playing with the big boys in south Manchester this week, impressive, given we've had no rain and those lawns would've been FAST.

Graham did the better, reaching the Final of the Doubles (with Charles Harding) but even in the singles where he'd entered both the Hcp event and 'B' class Advanced, he achieved 3/4 & 1/4 respectively.

Richard didn't fair as well, losing in the first round of the doubles but managed 3/10 & 0/1 in the Hcp and 'C' class.

Interestingly, both lads got to play against the very active England International Colin Irwin in the Hcp, both losing (Colin went on to win the A class & Hcp events) - still, great experience for them both.
Coronation Park 20th July, Association Fun Day
20 players, club members and visitors had another great *light hearted* event in warm sunshine.
Barbara Young won the 'X minute' speed event and Barbara Young with Harry Anderton took the Flamingo Doubles.
&nbsp
Nottingham CC, Golf Open, 20th/21st July.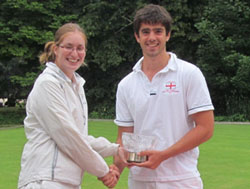 Member Graham Good entered this Open Level Play weekend event making up a field of nine, with the aim of getting deeper into the golf ranking database.

Rachel Rowe (current Women World Champion) went on to take the title, beating our boy +5 along the way.

Overall after the two days, Graham finished in Seventh place with 4/12 so should improve upon current 22% next publication






Southport Summer Super 'B' Level, 20th/21st July.
Member Andy Brandwood was our sole representative at this year's Southport B .

Block play, managed by John Haslem, winner and runner up sourced from Fylde (Terry & Liz).

Andy achieved 3/5 and triggered down to Hcp 5.
Flyde Club 27/28th July, Jubilee Trophy Handicap Tournament.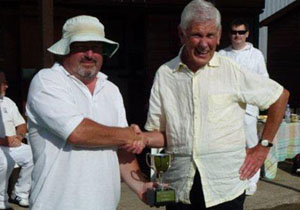 Member Andy Brandwood tried to defend the title he took here last year (when he was a bit of a bandit), This time straight out of the blocks he achieved his CA Silver Badge in his first game! Not a bad way to start..

But, Andy wasn't our only member entered this year - Graham Good had also applied and galloped (literally) his way through the field in bright sunshine where most of the players went barefoot to take this years title with five straight wins, one against Andy with Bisques to spare.

Graham also triggered again so will now play off Hcp 14 as he continues to drop like a stone..


Martin Bradshaw presents the trophy.



Heaton Park, 10th/11th August Manchester Handicap Tounament.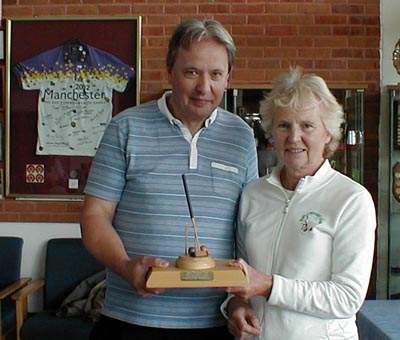 Summer still continues, with rain forcast only to fall overnight between the two days at this event, the Handicap returning to HP for the first time since 2009. However with only three courts in service (Lawn 3 covered in moss still) entries were limited to a maximum of 12, and that's exactly how many we had up till 8:53 on the first morning - is that the latest anyone's had a withdrawal? Anyhow, play started for the remainig players, gathered from Birmingham, Bowdon, Bury, Chester & Southport bang on 9:15.

By close of play, only one player was unbeaten with three others tied on one loss, so all to play for on day two - but wait! As Sunday dawned, another withdrawal, none other than our overnight leader, then the day just got weird.

A new leader emerged, (The Bury member who had originally commisioned the trophy) and the player from Chester who *always* finishes games in the time turn was the first to finish the morning game in just over an hour!

By Tea, two players were tied with the same number of wins, but on who beat whom, Margaret Anderson wins.
Hosted by Bury CC
Mangaged by bury member Paul Rigge.
Bury Club President Paul Kenworthy presented the Trophy,

Runner up - Alan Farrell(S/Port), with Steve Reynolds (Bowdon) in third.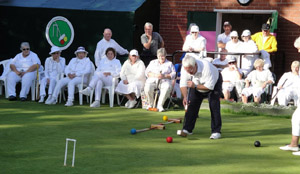 Coronation Park 13th August, Golf Fun Day
A really well supported event, with 40 players coming from many other local clubs (Culcheth, Bowdon, Goostrey, Fylde and Westmorland) to have fun playing golf based games in mixed weather, wet start in morning, clearing to bright sunshine later.
Winners
Joker - Donald Whitehead (Goostrey) and Tish Hilton (Culcheth)
10 Minute - Tish Hilton and Doreen Groom (both Culcheth)
Bonus - Denis Cook (Culcheth), after penalty shootout
Double Evens - Jean Oldfield (Bury), after penalty shootout
Mini Croquet - Eve Gardner (Westmorland), after penalty shootout
Crazy croquet - Donald Whitehead
Clock Golf - Donald Whitehead
Nottingham CC, August 2013.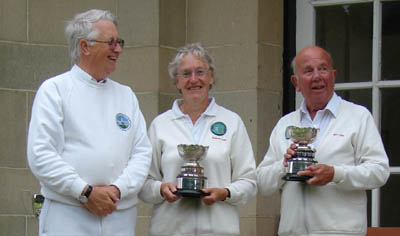 The Nottingham club has played host to a few Bury members this month.

First - Paul Rigge and Matt Holmes narrowly missed qualifying for the recent World Championships over three days.

Followed by Graham Good playing in their Golf weekend who achieved 4/6, coming 4th.

Finally, Barbara and Geoff Young returned from the Midweek Tournament ready for our party & festivities holding the Handicap Doubles Title.


&nbsp
Coronation Park 18th August, 25th Silver Birthday Party
Bury Chairman Paul Kenworthy and his Partner Maureen opened the day's Festivities by offering a Drink of' Pimms' to everyone.

This was followed by a wonderful selection of delicious food and cakes which were available from the open Buffet all afternoon.

Hot sunshine enabled the members to sit around and chat or happily engage in a Croquet Based Party Game called Pirates, which at one time resulted in 16 Players and Balls being in use at the same time on one Lawn !!

Other players were attracted to playing ' One Ball Croquet' which involved both 'beginners' and experienced players who played several excitingly close fought games as a result of the handicapping system employed.

A Superb 25th Birthday cake had been made especially for the occasion by Club member Pat Carter.
The Top surface which was fully iced, had ' photographs' of some of the Clubs Memorable events emblazoned into its surface.
Prior to the 'cutting of the cake' ceremony Paul Kenworthy spoke about the Friendly attitude that existed within the Club and his hope that this would continue as we continued to welcome new members in the future.

David Barrett The Club's President then gave a brief history of the Club before cutting the cake.

More Pimms followed whilst party goers enjoyed eating the cake.
22nd August
| | | |
| --- | --- | --- |
| | Northwest Champions Again! - New Level Play Golf League Title Comes Our Way | |
| | P | W | L | D | Games | Points |
| --- | --- | --- | --- | --- | --- | --- |
| Bury | 3 | 2 | 0 | 1 | 39-15 | 05 |
| Pendle | 3 | 2 | 0 | 1 | 35-19 | 05 |
| Fylde | 3 | 1 | 2 | 0 | 14-40 | 02 |
| Culcheth | 3 | 0 | 3 | 0 | 20-34 | 00 |
Ashby CC, 7th September, CA Grass Roots National Final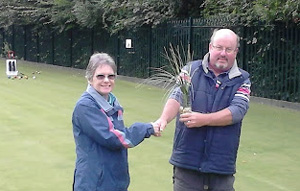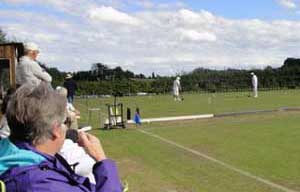 Graham Good Won the regional final & went on to Ashby for the national final






He ended up (again) playing for the 3rd or 4th spot - this time against our own Derek Deadman.

&nbsp
Hamptworth Golf & Country Club, 6th-10th September 2013.
Bury's Matt Holmes, regains his form and storms the CA's fourth 'Eight' upon his first invitation.

Having been promoted into the Treasurar's Tankard eight, (format all play all - twice). Matt only dropped a single game in the first round and continued to pile the pressure onto the other players with multiple peeling turns in the second round.

Winning this Top National Throphy well clear of the field with a day to spare!

Bury's man of the year again? - Brilliant display from him & must surely place him near the top of the MacRob development squad.

Full details; croquetscores.com
In the 'Eight' above - the Spencer Ell at Nottingham, Paul Rigge had a torrid time as game after game got away from him without him even having a sniff. Paul not getting first win until the fourth day! (Report)
These results mean the Matt now is the Club's top player, being twenty odd places above Paul on the ranking database as the season draws to a close.


Photo; Matt Holmes (holding) from Jaimie Mussi, Richard Griffiths, Nelson Morrow, Mike Town, Cliff Jones, Ian Vincent & Graham Gale.
Hunstanton, 21/22 September, All England Handicap (GC) Final
Graham Good finishes third at the Nationals.

Sixteen players with handicaps from 1 to 8 gathered at a rather overcast & chilly Hunstanton for a 9:00am start.
Round 6 Graham dropped a game to Derek Buxton 6-7, who won with a cheeky 'in off'. In round 8 he was drawn to play Peter Balchin - the leader on 7 wins - in what could well be the title decider. At the golden hoop Graham had 2 balls within a foot, both runable, Peter played blue from the boundary to clear red, unsurprisingly he went 'in off'.
Overnight Peter was unbeaten on 8, with 3 players on 6.
'Sunny Hunny' the posters said and was it sunny on Sunday. A round 12 loss (6-7 to an 'in off') appeared to put paid to Graham's chances in a match that was notable for the players reversing their colours, but elsewhere strange results were coming in. Peter started dropping games, Rich Waterman - whom Graham had beaten - started winning.
Two more wins and going into the last match Graham was surprised to learn that depending on other results he could still win. (Rich 12, Peter 11, Graham 11). Fortunately for Peter he pulled a win out of the hat, whilst Rich lost. Given the early celebrations that were going on (and knowing he couldn't win) it is probably unsurprising that Graham lost his last game, the score an even less surprising 6-7.
Overall Peter Balchin was 1st (and dropped from 1 to scr), Rich Waterman 2nd, with Graham in 3rd. A very costly 4 points! The good news is that he has dropped from 6 to 5.
Bowdon, Sheila Black Salver (B-Level Adv), 21/22nd September
Both members, Andy Brandwood & Malcolm Daines, favoured tournament play in the sunshine down in south Manchester rather than at our club's final day that had been booked to clash with this NW event.

As always seems to happen at Bowdon, our club mates ended up playing each other with Andy taking points off Malcolm
Andy finished points up with a creditable 3/6, Malcolm, only marginally down with 1/5.

Coronation Park 22nd September, Club Internal Finals Day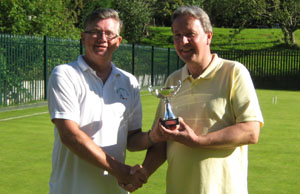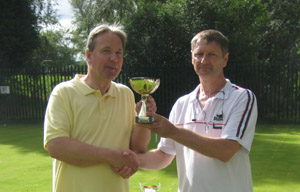 Bury Club Chairman

Paul Kenworthy presented the Trophys.





Advanced - Paul Rigge.

Handicap - Tony Phillips.
Summer rolled on and bright sunshine was again the order of the day for this year's fanals. However, only three were left to contest on the day, since the Short & Golf titles had been won by Graham during the week ( he wasn't available for the Sunday).

The morning session was well supported by club members who were treated to Golf on court one, and 26pt Hcp on two. Derek quickly wrapped up his first Bury title in straight games with good aggressive tactical play. Whilst the same two protagonists from last year battled out their *replay* - This year, Graham's early lead falling short and only taking him to Rover & Rover before being overhauled.

The hoops were reset and the advanced started on court one but quickly paused when lunch was called - again Mac's delicious famous Potato Pie and in line with previous years, the £5/plate charge going to the winter treatment on surface.
On resumption Barbara took full advantage of a nervy opponent and raced round to 4b with her forward ball and got as far as 2b with the second before Paul got gifted the innings. The title then being taken in good spirit with time to spare, finishing with a straight double peel & peg out on partner, much to the delight of the spectators.


| | | |
| --- | --- | --- |
| | | |
Full Details
AC 26pt Advanced
AC 26pt Hcp
AC 14pt Hcp
Golf 13pt Hcp
Golf 13pt High Hcp

WINNER
Paul Rigge +10
Tony Phillips +4
Graham Good +14
Graham Good (w/o)
Derek Deadman 7-5, 7-4.

FINALIST
Barbara Young
Graham Saunders
Tony Phillips
Andy Brandwood
Jean Oldfield.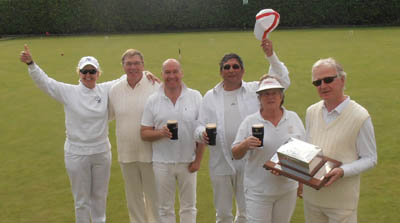 Carrickmines C&LTC, CA vs CAI - McWeeney, 28/29th September
Member Andy Brandwood took a trip over to Ireland as a member of the CA squad, tasked with retaining this National trophy on english soil.

The team did just that with a good strong victory. Andy contributing four points to the total.

A good way to end the season, playing at the Irish Wimbledon in SW Dublin, but with grapes and Guinness not strawberries and cream.

Full report on CA Website
Photo (l-r);Betty Bates, Garry Wilson, Andy Brandwood, Peter Wilson, Liz Wilson & Paul Wolff.
Black Sheep Yorkshire Open Doubles, Ripon 5/6th October
Members Margaret & Ken Eccles, Joan Langridge & Sue Sandyford closed off their season over in Yorkshire by entering this doubles tournament.

Both pairings being placed into the same block didn't help either move into the KO stage for Sunday - hay ho, nice try.

Results on Croquetscores Website
North West Federation AGM, 2nd November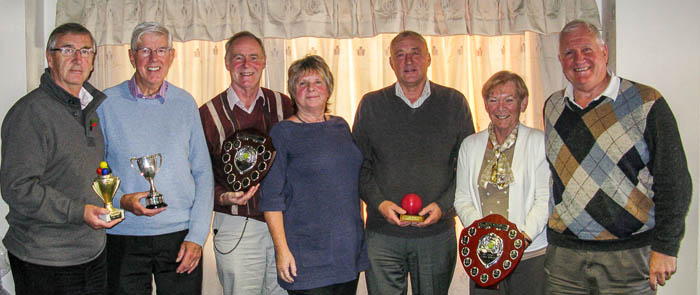 Ken Eccles (far left)
collects this year's
Federation Silverware for
Winning Lvl Golf League Title.

Chair Liz Wilson (middle)
Presented trophy.








&nbsp
&nbsp
Season Dinner and 2013 Trophy Presentation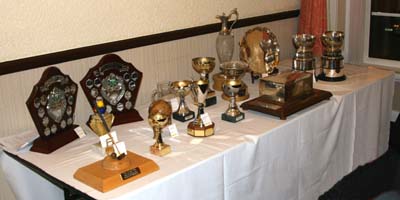 All I seem to write about of late is new venues, and to re-inforce that point, we have a new surperb place to hold our annual social dinner - The Grand Masonic Lodge in Bury welcomed us on Friday Night (28th Feb) for the first of what I hope will many years in the years to come - simply wonderfull evening.

This years dinner had Club members and friends from Culcheth & Fylde, gathered for this annual pre-season celebration of Bury Croquet Club's continuing growth.

Well done to all who contributed to this year's trophy haul but *Man of the Season* was again Matt Holmes (below centre) who having been promoted into the Treasurar's Eight, won it with a day to spare, such was his margin of victory.