Coronation Park
New Road
Radcliffe
M26 1LS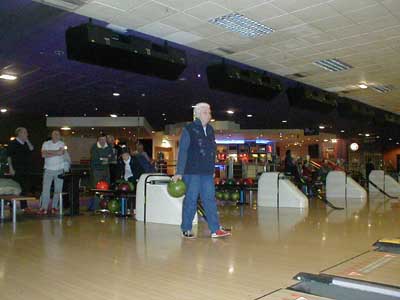 And a new season starts
-no not really but days are getting longer!
January 10th-Pilsworth, First event for us this year, in line with recent years, 10 pin Bowling.
Our biggest turnout to date with 16 members competitively bowling over 3 lanes, for new members Jill & Gordon it was quite an eye-opener.
To enable laughs rather than scores to carry the evening, gutter bumpers were utilised for all players, some even using ball guide drops to deliver their efforts.
After all had three games, the final scores were closer than early betting predicted, but cream always rises to the top with Ken Anderton again returning the top score-Joan not far behind holding the wooden spoon!
Heaton Park 2/3rd April, 11th Lancashire International Open Golf Championship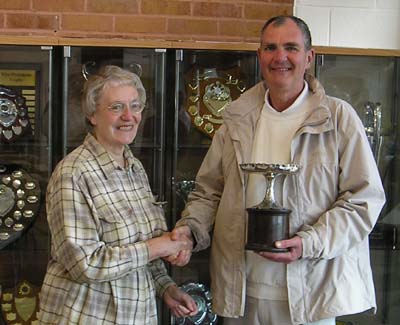 Another great early season curtain raiser as 17 contenders met in kind mild spring sunshine, last year's winner couldn't defend the title, due to injury, so honours went this year to Lionel Tibble, playing golf for the first time! After scraping his way out of the block phase he won the quarter and semi stage in 2 games at a canter until Paul Rigge took him into a third game as befitting a final.
Hosted by Bury CC
Mangaged by Bury member Geoff Young.
Bury Club Chairman Barbara Young presented the Trophys,

The consolation doubles was taken by Ray Mountfield and Bob Connop.
David Walters
Alan 3-7 7-5 7-4
Paul 6-7 7-0 7-6
Lionel 7-1 5-7 7-5
Alan Mayne
Rachel Rowe
Paul 1-7 7-6 7-6
Paul Rigge
Lionel Tibble
Lionel 7-3 7-6
Lionel 7-6 7-5
Robert Dodds
Freda Vitty
Freda 7-5 7-3
James Hopgood
Block Results
| | | | | | | | | | | | | |
| --- | --- | --- | --- | --- | --- | --- | --- | --- | --- | --- | --- | --- |
| Block A | TW | RD | DB | BC | JL | SA | RR | FV | DW | | Wins | Losses |
| Tom Weston | | 07-04 | 07-04 | 07-04 | 07-06 | 07-04 | 06-07 | 06-07 | 04-07 | | 5 | 3 |
| Robert Dodds | 04-07 | | 07-05 | 07-03 | 07-00 | 07-05 | 06-07 | 07-03 | 07-06 | | 6 | 2 |
| David Barrett | 04-07 | 05-07 | | 07-03 | 07-05 | 07-04 | 04-07 | 07-05 | 02-07 | | 4 | 4 |
| Bob Connop | 03-07 | 03-07 | 03-07 | | 07-05 | 04-07 | 01-07 | 05-07 | 01-07 | | 1 | 7 |
| Joan Langridge | 06-07 | 00-07 | 05-07 | 05-07 | | 07-03 | 02-07 | 04-07 | 00-07 | | 1 | 7 |
| Stuart Arthur | 04-07 | 05-07 | 04-07 | 07-04 | 03-07 | | 02-07 | 00-07 | 00-07 | | 1 | 7 |
| Rachel Rowe | 07-06 | 07-06 | 07-04 | 07-01 | 07-02 | 07-02 | | 04-07 | 05-07 | | 6 | 2 |
| Freda Vitty | 07-06 | 03-07 | 05-07 | 07-05 | 07-04 | 07-00 | 07-04 | | 06-07 | | 5 | 3 |
| David Walters | 07-04 | 06-07 | 07-02 | 07-01 | 07-00 | 07-00 | 07-05 | 07-06 | | | 7 | 1 |
| | | | | | | | | | | | |
| --- | --- | --- | --- | --- | --- | --- | --- | --- | --- | --- | --- |
| Block B | PR | JH | LT | JP | BK | PDC | AM | RM | | Wins | Losses |
| Paul Rigge | | 06-07 | 07-05 | 07-03 | 07-03 | 07-06 | 07-04 | 07-06 | | 6 | 1 |
| James Hopgood | 07-06 | | 07-05 | 07-03 | 07-05 | 07-05 | 07-01 | 07-03 | | 7 | 0 |
| Lionel Tibble | 05-07 | 05-07 | | 07-03 | 07-03 | 07-05 | 07-06 | 06-07 | | 4 | 3 |
| Jane Pringle | 03-07 | 03-07 | 03-07 | | 07-03 | 07-04 | 02-07 | 07-04 | | 3 | 4 |
| Barry Keen | 03-07 | 05-07 | 03-07 | 03-07 | | 04-07 | 03-07 | 04-07 | | 0 | 7 |
| Patricia Duke-Cox | 06-07 | 05-07 | 05-07 | 04-07 | 07-04 | | 07-03 | 07-04 | | 3 | 4 |
| Alan Mayne | 04-07 | 01-07 | 06-07 | 07-02 | 07-03 | 03-07 | | 07-05 | | 3 | 4 |
| Ray Mounfield | 06-07 | 03-07 | 07-06 | 04-07 | 07-04 | 04-07 | 05-07 | | | 2 | 5 |
Cheltenham 7/10th April, B-Level Advanced Tournament
Member Mat Holmes, this time last year had his first Tournament win, that started a terrific season for him. This year, his first match at CA HQ, took more than five hours before he pegged out. Finally after four long days he finished empty handed despite equalling the 'winners' seven wins out of his nine games - losing on a who beat who count back. Still his Hcp is now firmly 3.5, well done Mat!
Heaton Park 9/10th April, Neil Williams NW Federation Advanced Tournament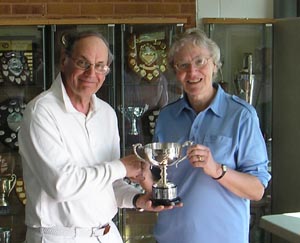 Hosted by Bury CC
Managed by Bury member Geoff Young.


Bury Club Chairman
Barbara Young presented the Trophys,

Neil Williams Millennium Cup - Alan Mayne.
Woodlands Trophy - Alan Pidcock.
Sixteen players were sent by their clubs to compete once again, in warm sunshine, for the Federation's only advanced tournament of the year.
For the first time since it's inception, for the millenium, the 'A' class event was contested by only minus players, showing that the general standard of play continues to improve in this region at all clubs.
The Cup was played as a flexible swiss with one of last year's rapid improvers - Alan Mayne, taking it with only a single loss, back to Bowdon.
The Trophy was won by the other Alan in attendance this weekend, with Southport's Alan Pidcock winning the round robin.
It is worth noting that Linesy turned in the only TP's, dispite still nursing his injured hand and not having his full shot armory available.
A Class

LINES, Ian bt STOREY, Brian +23
MAYNE, Alan bt RIGGE, Paul +23
NICK, Dave bt HARTLEY, Lee +26
WALTERS, David bt BURNETT, Bob +2
Mayne bt Hartley +26
Nick bt Rigge +13
Lines bt Mayne +26 TP
Burnett bt Rigge +5
Storey bt Hartley +10
Walters bt Nick +13
Lines bt Hartley +26 TP
Mayne bt Storey +16
Lines bt Burnett +26 TP
Hartley bt Rigge +8
Walters bt Storey +7
Mayne bt Nick +7
Mayne bt Walters +9


A Class - cont


Nick bt Lines +10
Hartley bt Burnett +20
Storey bt Rigge +26
Burnett bt Storey +4
Walters bt Hartley +8
Rigge bt Lines +24
Mayne bt Burnett +10
Nick bt Storey +8
Walters bt Lines +10

B Class

PIDCOCK, Alan bt LLOYD, Mark +1
SCHOFIELD, Roger bt BARRETT, David +11
WILSON, Liz bt WILSON, Peter +5
LOWE, Ray bt SMITH, Richard +1


B Class - cont

Schofield bt L Wilson +11
Pidcock bt Lowe +17
Smith bt Lloyd +8
Barrett bt P Wilson +10
Lloyd by P Wilson +24
Lowe bt L Wilson +18
Pidcock bt Barrett +13
Smith bt Schofield +11
Pidcock bt L Wilson +11
Schofield bt Lowe +12
Barrett bt Lloyd +14
P Wilson bt Smith +2
Pidcock bt Schofield +10
Smith bt Barrett +2
Lloyd bt L Wilson +16
Lowe bt P Wilson +4


Mayne 6/7
Walters 5/6
Nick 4/6
Lines 4/7


Burnett 2/6
Storey, Hartley 2/7
Rigge 1/6

Pidcock 4/5
Lowe, Schofield, Smith 3/5
Barrett, Lloyd, L Wilson 2/5
P Wilson 1/5

Club Open Day - in aid of Bury Hospice April 16th 2011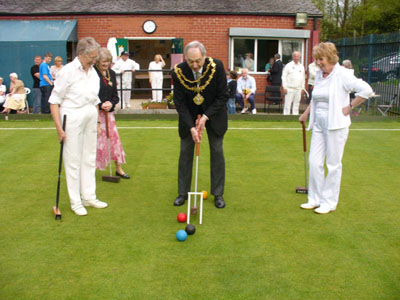 Opened by our patron's, HRH The Queen's, representative Bury Metropolitan Borough Mayor, Councillor John Byrne, who has been a keen sportsman for years, but suprisingly this is the first time he's tried Croquet.


Again, the event broke previous records with more than a hundred attending this year and trying out our sport.

All the money raised, (£575, another record breaking amount for us) has been donated to this very local and hardworking charity.

Thanks to all of the public who attended and showed so much interest. We hope to see you back soon.


Southport Jubilee Tankard Advanced Open, April 16/17th
The club IS getting stronger, for the first time three Bury members were all in action at the same level play tournament over at Sunny Southport this weekend. Dave Barrett, Paul Rigge and Mat Holmes

However they all ended mid table with Barrett 3/5, Holmes 3/5 and Rigge 2/5.

Pendle's John Beech Easter Handicap, April 22/25th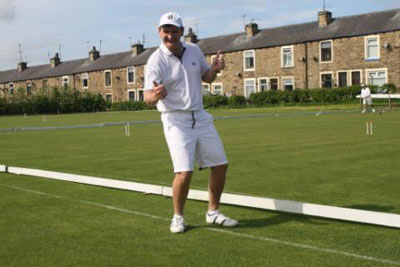 Member Mat Holmes, Attempted to retain his first trophy, that he won last year, despite now playing off a much reduced Hcp 3.5.


A strong Scottish contingent came south of the border to try and thwart his effort, but the unseasonal bright warm sunshine wilted their efforts.


Mat finally won though on 8/10 so he nows joins fellow Bury member, Paul Rigge in having his name engraved on consecutive years. Oh and he's reduced his Hcp again, now down to 3.

The Manager didn't reduce his Hcp any further, since he knew that Mat was due to play Riggey in the first round of the club's internal handicap competition this week - Mat won that too...
Cheltenham, COLES Championship, April 30th/May 2nd
Member Paul Rigge, Entered his first Championship with some trepidation, as the field was full of names like Death, Mulliner, Bamford, Lines, Mundy & Gaunt. All 'Gods' of the game past and, in the case of world No1 Bamford, present.
The Cheltenham courts were showing brownish patches since no rain has fallen all month, so were fast with very firm hoops, even Mulliner described the conditions as tricky! - did I mention the gusty 20mph cross wind that ment only one in three practice swings went in the required direction?
Still now we've heard all the usual excuses, on with the report - Paul first played Legend, Don (How to Win Plus One On Time) Gaunt, and of course lost both games in Bo3 match to him, guess how? -1 on time! The problem being that all the tricks & tactics Paul knows, he got from Don's book.
Out of the main event at the first hurdle, the rest of a sunny weekend then became a struggle to play at all, let alone above index. Paul was very pleased to finish with 4/8.
Heaton Park 7th May, NW Federation Millennium Hcp Golf Tournament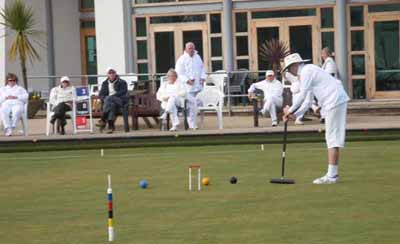 Hosted by Bury CC
Managed by Bury member Jean Hargreaves.

Sixteen players, sent by their clubs, converged amid warm Manchester showers to compete for the Federation's Golf Medal.
Played in two blocks, drawn, to enable all to play all, then the top two played Semi & Final as KO.


John Adams (Chester) rose to top of the pile and took yet another trophy back to this emerging club, earning a Hcp reduction from 9 to 6 along the way.
The beaten finalist, Alan Wright (Culcheth) also improved his Hcp 5 to 4.
Edinburgh, Scottish Masters, May 7/8th

Mat Holmes, having out-played the visiting Scots a couple of weeks ago down here had a go at them on their Home turf at their Headquarters;
The National Croquet Centre - The Meadows Club.

Due to only 14 attending, (it's a small place) he was lucky enough to recieve a first round 'bye' into the quarter finals and beat Ian Vincent 26-3, having attempted a 7th turn triple finish but only getting two of the required three completed - the CA Gold badge isn't far away....but not this weekend.

Out of the main event at the next stage after a bo3, day two he was faultless, with 3/3. Thus winning the Swiss Consolation event, with all games counting, ending 4/6. Also he's now knocking on the door of his next reduction to Hcp 2. Good Weekend and job well done.
Coronation Park, Golf Doubles, May 10th
A great turnout with 18 members entered.
Winners were Mick Sandiford and Vi Richards from Margaret Yates and Jean Oldfield with score 6-5 on time.
Despite intermittent bits of rain a good time was had by all.
Cober Hill Holiday Weekend, May 13/16th
We had a great enjoyable holiday at Cober Hill.
The weather was kind to us because although we did have the occasional shower and plenty of windy conditions it was mainly sunny throughout.
Tony Phillips and Margaret Yates won the Golf doubles.
Richard and Margaret E won The Association Alternate shot Doubles.
Several of our members managed to get plenty of games in and also have time to get out and about walking on the coastal paths and bird watching etc

Pendle's B Level Advanced Weekend, May 21/22nd
Both Mat Holmes & David Barrett entered for this weekend tournament.
The wind gusted and the showers were endured, dispite both yet again increasing their index, both came away empty handed.
Mat finished 5/7 and David 3/5
Brighton & Eastbourne (Southwick & Compton) - Inter Counties - May 28/31st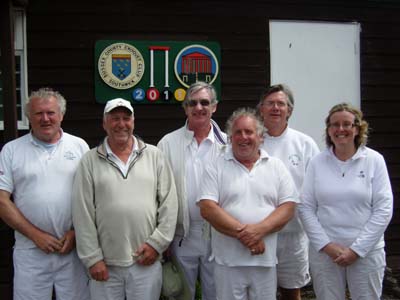 Paul Rigge, turned out again for the fourth time for his county, Lancashire, and after four full days play, they are still top class material (!) stuck mid table in Division 1.

That not quite the way this year's campaign went, in fact we were stuck in the relegation zone and due to drop, but by beating Middlesex in our last rubber 2-1, by the margin +1t in the third game, just crawled out in time.
In line with previous years the weather was cold and windy but this year we didn't get any rain at all over the full four days, in fact sun appeared on the last afternoon.


Picture (l-r); Dave Nick, Ray Lowe, Dave Openshaw (Captain), Bob Burnett, Paul Rigge, Ailsa Lines.
Sidmouth - June Mid-Summer Tournament June 1/5th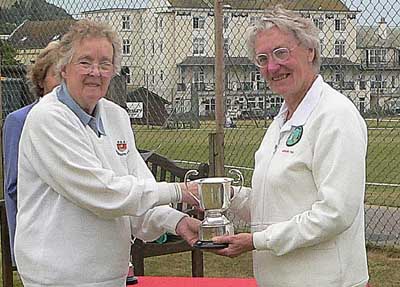 Team Young travelled to the south coast to contest in both the Handicap and Class advanced events.

Neither could get very far in the handicap event, that started this week long tournament.
In the Advanced, held as a Swiss, Barbara held a perfect 6/6 to win the B level.


Picture ; Barbara Young receiving the B class trophy from Sidmouth Chairman Elaine Woodward.
Grass Roots & Centre Stage National's - BCC Club Qualifiers, Coronation Park, June 15th
Mick Sandiford beat Jean Oldfield 7-5 to take the club's first slot for the National Grass Roots Competition.

In the playoffs for 3rd place, Ken Eccles beat his wife, Margaret Eccles by the same margin, 7-5.(not the wisest move Ken!).

In the other National Golf Croquet Competition - The Centre Stage, the qualifiers are;

Margaret Anderton 1st, Joan Langridge 2nd, & Jean Hargreaves 3rd.

Well done to all and good luck in the final rounds.
Our Future is Secured at Home - 16th June

Our Pesident, David Barrett, has been in quiet negotiations with the council over the length of our lease. They have seen the improvements that BCC have made to this former disused site over the fifteen years that BCC have been tenants in the Park and have agreed in these difficult financial times to increase our tenure until at least 2040.
Pendle's Advanced Weekend, June 18/19th
The trio of Mat Holmes, Paul Rigge & David Barrett entered for this weekend tournament.
The rain stayed away and the lawns were evenly paced with very firm hoops, Both David and Paul worked their way into the final of the KO, with Paul taking the David Openshaw Claret Jug for the first time and David not taking Croquet.
Mat tournament on the other hand, was scalp collecting not trophies this time. He was involved in the longest game of the weekend, finally beating Paul +1.
He earned yet another reduction and now plays of 1.5.
North West Federation Festival - Southport, June 25/26th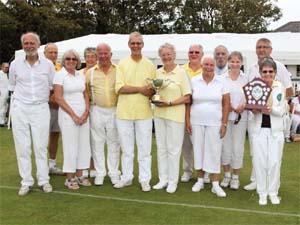 The worlds second largest annual croquet gathering was again held by the NW Fededation at the height of summer.

With more than a hundred competitors attending for the weekend, all lawns and surfaces were again pressed into service to grind through the 364 games needed to complete this Jamboree where all disciplines of the game are contested.

With nearly all federation clubs submitting at least one team, identification of who was doing what to whom, was assisted by most players donning team colours, taken from croquet ball colours.

After two days of intense competition......Overall Champions?..... Bury, yes us again, regaining the title we last held back in 2005.

The only discipline we won outright was '14point Short Lawn' but we put in good showings across them all so collected the overall trophy. Great Job!

Heaton Park 2/3rd July, Mid Summer Advanced Tournament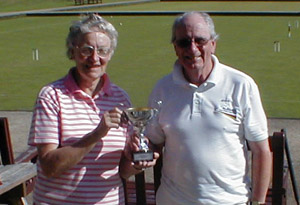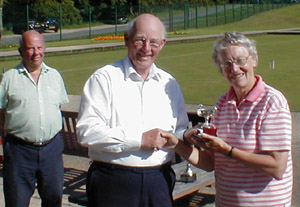 Hosted by Bury CC
Managed by Bury member Geoff Young.


Bury Club Chairman
Barbara Young presented the Trophys,

Advanced Summer Silver Trophy - Alan Mayne.
'B' Level Trophy - Mike Steer..
Only Ten players finally turned up after the build up game, over the last two weeks of 'hokey-cokey'. Players were in, players were out, some applied, other withdrew.
Again Manchester was blessed with soaring temperatures and blue skys over both days, because of the numbers attending only three lawns were needed but the three we used were all running fast!
The Cup was played as a flexible swiss with Alan Mayne still being the 'in form' player not only winning the silverware but also hitting his next trigger point - now a minus one.
The B class Trophy was won by another Bowdon Member, Mike Steer.
Lee Hartley beat Brian Storey +7
Alan Mayne beat Francois Garcia +10
Matt Holmes beat Sylvia Steer +20
Andrew Winn beat David Barrett +14TP
Paul Rigge beat Mike Steer +1
Lee Hartley beat Matt Holmes +17
Brian Storey beat Sylvia Steer +26
Alan Mayne beat Andrew Winn +5
David Barrett beat Francois Garcia +18
Lee Hartley beat Paul Rigge +24
Mike Steer beat David Barrett +3


Brian Storey beat Matt Holmes +21
Sylvia Steer beat Francois Garcia +10
Alan Mayne beat Lee Hartley +25
Andrew Winn beat Paul Rigge + 15
Andrew Winn beat Lee Hartley +17
Alan Mayne beat Brian Storey +16
Paul Rigge beat Matt Holmes +3
David Barrett beat Sylvia Steer +14
Francois Garcia beat Mike Steer +5
Brian Storey beat Andrew Winn +4
Alan Mayne beat Paul Rigge + 4


Lee Hartley beat Sylvia Steer +24
Matt Holmes beat David Barrett +11
Alan Mayne beat Matt Holmes +24
Paul Rigge beat Brian Storey +24
Lee Hartley beat David Barrett +26
Andrew Winn beat Francois Garcia +8
Mike Steer beat Sylvia Steer +10
David Barrett beat Brian Storey +6
Paul Rigge beat Francois Garcia +25
Hcp Changes;
Brian Storey from -1 to -0.5
Alan Mayne from -0.5 to -1

16th July, Longman Cup 1st round of our 2011 campaign...
Bury played Shewsbury again, we beat them 1st round last year, this time we went down to their lawns ...
The team drove through heavy rain going down, played in the wet and drove back up - in the rain. Great day was had..
Bury 1-2 down at lunch
Final score; Home win 4 - 3.
Full results, Bury names first
Mac Hardman(14)/Bob Whittle(20) lost to Alan Knight(9)/Allan Smith(10) 18-26
Graham Saunders(9) beat Robert Parsons(8) 26 - 12
Andy Brandwood(20) lost to James Penny(11) 16 - 23t

Saunders lost to Knight 15 - 26
Hardman beat Parsons 26 - 13
Whittle beat Penny 22 - 16t
Brandwood lost to Smith 26 - 18

We will try again next year....
Fylde Croquet Club, 15/17th July, McWeeney Trophy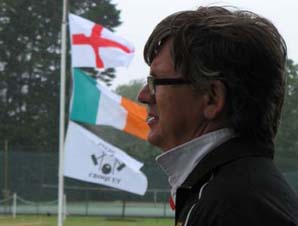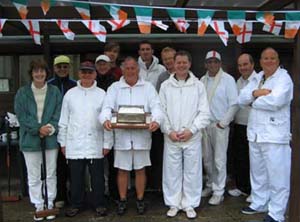 Success for the English CA Side at Fylde
Member Paul Rigge, Manager of the English CA side, selected his squad and chose the English venue to contest this year's McWeeney. This was the twenty ninth time the countries had met and both have held it fourteen times so bragging rights where up for grabs if the deadlock could be broken.

The CA squad lead throughout the weekend; 4-3 by Friday night,10-7 Saturday & victory by lunch Sunday with a unassailable 15-11 margin.

Teams Photo (L-R);
Jane Morrison, Alan Pidcock (Southport), Brian Lewis (Southport), Robert Barklie, Ben Reeves Smith, Bob Burnett (ex Southport, now Bristol), Jack Clingan, Michael O'Shaughnessy, Lee Hartley (Fylde), Peter Wilson (Fylde), David Roe (Pendle & Earby), Nathaniel Healy.
Pendle & Earby Croquet Club, 24th July, Trans-Pennine Cup (Roses) Challenge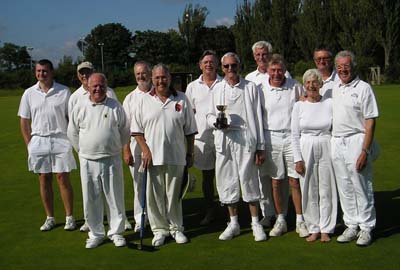 Failure for the Lancashire squad at Pendle
Member Paul Rigge, Manager and Captain of the NW Federation team, gathered his squad and duly met the 'enemy' at the neutral ground of Pendle (They have teams that play in both Federation Leagues).
After a gap of two years, this match, a legacy of the Confederation of Northern Clubs (under Mike Evans), was restored back onto the calendar.

The North East team, lead by Charles Waterfield carried the day 5-3 and retained the trophy they won last time both federations met, back in 2008, only this time they remembered to take it with them, it's been kept safe for them at the Pendle club for the last thee years!

After 3.5 hours, Lancashire were only 1-0 up at lunch in the morning doubles, necessitating in the other two games being pegged down to make way for the singles. In which we didn't fair so well, losing the round 5-1. The final NW point coming from a restarted double game before the finishing line had been crossed by Millener in his Hcp game (seen holding the trophy).

Teams; NW Fed, Paul Rigge (-.5), Mat Holmes(1.5), Rob Essler(2), Terry Vernazza(5), David Pollitt(7) & Dave Holland(9).
NE Fed Charles Waterfield(.5), Derek Watts(2), Phil Errington(2.5), Dennis Scar (6), David Millener (7) & Sheila Watts (10)
Crake's 'Rock Clock' Advanced Weekend, August 20/21st
Both Paul Rigge & David Barrett entered for this weekend tournament up in the lakes.
Dispite no daylight rain, the bottom lawns only stayed playable on the first day and then they were very waterlogged and spongy. David got knocked out after the first round but Paul made it into another final, and what a final it proved to be against Dave Nick, the Manager and best player in Lancashire who strangely has never won his own tournament.
The skies cleared and the Sun came out for the final, Paul ran away with the first rubber game easily. The second evenually went against him after much interactivity. In the decider, Dave pegged out one of Paul's balls and played a enthalling 3 ball ending that kept the spectators glued to their seats, however the last lift shot was hit - giving Paul a break to the title and Lord Cavendish Clock.
David did manage to collect a good few points, winning 4/6.

Paul also qualified for the CA Silver Award since he reached the final stages of this class event that had 16 entrants.
Pendle & Earby Croquet Club, All England Hcp Area Finals September 3/4th
New Member Andy Brandwood goes through to the National Finals at Sidmouth.

Eight contestants competed for the honour of representing the North West in the finals down in Devon having won at club level to get into this regional.
Richard Harvey was also again present this weekend but didn't manage the required wins to get into the last stage.

The weather was unkind on the Saturday with all players getting a drenching but on Sunday things changed and a beautiful warm, sunny day made the lawns play faster and cheered the players.

Andy finished the weekend in a creditable second place (top three qualify for the finals) as well as achieving a CA merit Bronze Badge, so we wish him well and hope he can go the extra step next time out and win a National Trophy in his first season!
Northampton Croquet Club, Grass Roots National Final, September 17th
Sixteen finalists from clubs from all over the country competed for the Grass Roots trophy, a GC competition for high handicap players, (handicap range 9 - 12).

On a day which saw almost every kind of weather, seven rounds of progressive doubles produced four leaders who then went on to a four player knock-out stage....

Our delegate, Mick Sandiford made to the KO Semi but Hillary Isham from Cassiobury CC overcame him 7-3. She then went on to lose to Richard Field (Bishop Monkton) 2-7.

All-in-all a very enjoyable day, and an excellent introduction for high handicappers to serious conmpetition.
Southport's September Open Advanced Weekend, September 17/18th
The weather played havoc with this event again this year (last year's final had to be moved to Bowdon), Paul Rigge entered thinking that lightning never strikes twice...

An entry field of twenty would have lead to four KO rounds to get to the Bo3 Semi-finals. however it had rained overnight!

We all arrived, in the rain, to be greated with a lake, not grass. Some players left, some (the crazy or more optimistic) stayed. By mid morning, two courts were pressed into service for the 14 die-hards who were prepared to cope with the conditions. A hasty reshuffle by the manager got us started in stages and Paul was still in the main event after two rounds at the end of the first day.

Sunday, the skies had cleared allowing the lawns to drain abit, even the Sun turned up by lunchtime, four courts could be utilized. Paul got beat in the semis by Ian Lines, the eventual Salver winner - again.

However he went on to win the Swiss Consolation event, so ended up in third spot.


Sidmouth Croquet Club, All England Hcp National Finals September 17/18th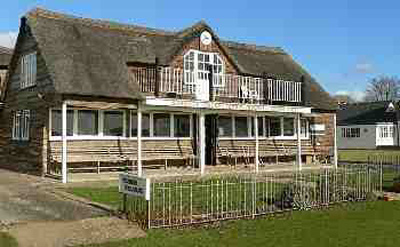 Member Andy Brandwood, the latest in our long line of Bury Bandits traveled down to the Devon south coast to compete in his first, of many we hope, National Final weekends

A strong southern based contingent of 13, had to contend with only three players from the North, well from this side of Birmingham. Rather unfairly he was placed into the same block as a fellow northerner from Bowdon.

He didn't drop a game in the blocks on Saturday, thus giving him the Semi play-off against the winner of 'C' block Sunday Morning - Andy taking it narrowly +4 on time.

In the final, both surviving NW players met again, as they had two weeks ago in the regionals, with similar results. Adam (wonder kid at 14years old) Swinton ground out the win again, on time, but to be fair - it's Adams third season and only Andy's first!

A great showing by Andy, who hadn't even held a mallet until after this season was well underway.
Bury Croquet Club, Secretary's Shield National Finals September 21st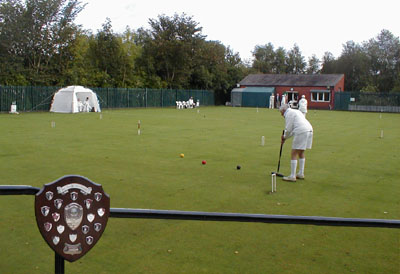 The Secretary's Shield made a welcome return back to Bury CC, we won it back in 1993, but sadly this time it was just visiting, prior to being awarded by Ian Vincent on behalf of CA to either Fylde CC or Nottingham CC - this year's finalists.

The final has to be played at a neutral venue and we were delighted to be asked to host this CA event mid(ish) way between the two clubs.

Both teams had to content with Manchester's rush hour traffic to get to us, but play duly started on time(ish) in sunshine, but that didn't hang around for long as it clouded over, with a few light showers after lunch.

Notts held a 2-1 lead at lunch, which was supplied by Geoff & Barbara Young, and didn't let the advantage slip in the afternoon, eventually winning 5-2.



In one of those strange coincidences, the new plate, to record the Notts win on the front, will mean that our plate, from 1993, will be demoted to the rear of the shield.



Coronation Park 25th September, Club Internal Finals Day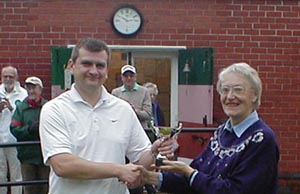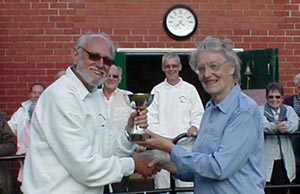 Bury Club Chairman

Barbara Young presented the Trophys.





Advanced - Matt Holmes.

Handicap - Richard Harvey.
All the club's internal finals were played in glorious warm sunshine (after lunch, in morning we got wet) and good humour..

Most club members turned to support the day, but was it to enjoy the spectacle of all Croquet disciplines being contested in a single day or to enjoy Mac's famous Potato Pie - even better that Aunt Bessie's?
It's was great to have our full finale back again after a gap of the last two years - thanks for all your patience during the work.

Full Details
AC 26pt Advanced
AC 26pt Hcp
AC 14pt Hcp
Golf 13pt Hcp
Golf 13pt High Hcp

WINNER
Matt Holmes +2t
Richard Harvey +2
Andy Brandwood +14
Paul Rigge 1-7, 7-6, 4-3t
Margaret Eccles

FINALIST
Paul Rigge
David Barrett
David Barrett
Paul Kenworthy
Vi Richards.
Annual Pre-Season Dinner and 2011 Trophy Presentation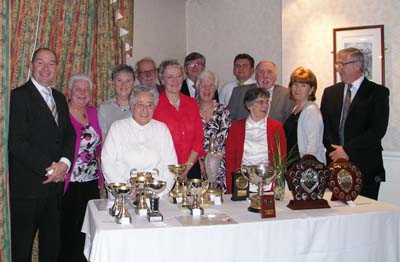 Fifty five members and friends, gathered for this annual pre-season celebration of Bury Croquet Club's continuing success.

Yet again, the function dinning room at Bury Golf Club was pressed into our service.

Group photo shows our impressive collective 2011 haul, well done to all who contributed but Andy Brandwood (far left) deserves special mention;- Runner up at the All England Handicap and obtaining CA Bronze badge, in his first season!

The Big Silver Cup in centre of table also gets its own mention;-
2011 North West Federation Champions.